We took an extended-weekend trip out to the northern California coast last weekend.  We left Wednesday afternoon (April 5) and headed out to the Red Lion Hotel in Eureka.  We got in a little late so it was straight to bed the first night.
On Thursday we headed out to the Elk River Trailhead & Old Town of Falk Walking Tour to take the ~2 mile round-trip path out to what I was led to believe was a ghost town.  But, at least as far as we could see from the trail, there really isn't anything to see left of the old logging town.  You can see some of the remnants of the old caretaker's house from the 1970's, but that's about it.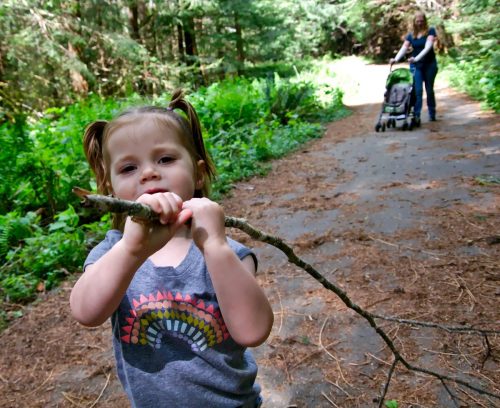 Though the goal of the hike was a bit of a letdown, I really liked the quiet of walking through the redwood forest with mostly nobody else around.
After our hike we headed to the Loleta Cheese Factory (not to be confused with the Cheesecake Factory restaurant).  They had already completed their cheese production for the week so we didn't get to see any being made, but we had lunch at their grilled-cheese bar and then completed their garden scavenger hunt.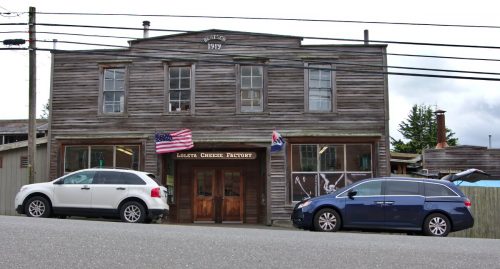 We bought some cheese to bring home and then headed back to the hotel.  For dinner we walked across the street to the China Buffet.  Corinne was happy to have a plate of green beans and honeydew.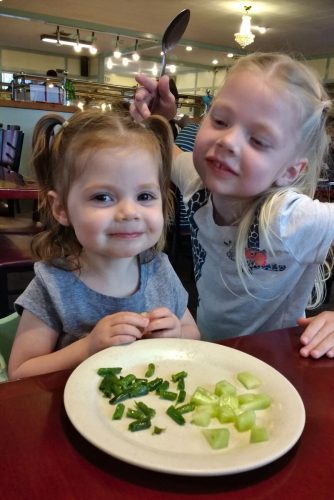 On Friday we got up and headed out to the Samoa Cookhouse for breakfast.  They claim to be the last operating cookhouse (from the logging days).  They have a daily-changing, set, all-you-can-eat menu served at communal tables.  We had pancakes, eggs, sausage, orange juice, and biscuits with gravy.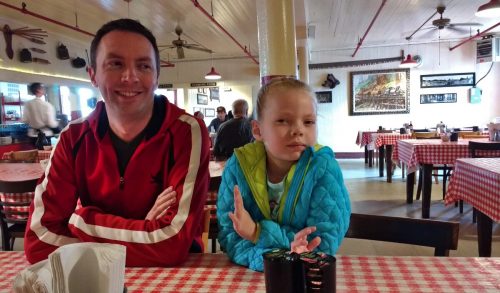 We needed to fill up for our drive up north.  Our first stop was at Trees of Mystery and stereotypical tourist trap, but with the unique draw of gondola rides through the redwood forest.  We were thwarted in this plan due to a power outage and the gondolas weren't running.  So we kept on driving up to Crescent City to see the Battery Point Lighthouse.
The road up to Crescent City from Eureka (US 101) seems to have suffered some damage from California's rain this year.  Several sections were down to one lane due to landslides, with construction going on to rebuild the lost roadways.
Here the stormy weather made for a much more interesting visit.  You can see a wave crashing over the far side of the cliff upon which the lighthouse sits.  It's an operating lighthouse with a 24/7 staff.  Its cliff is an island during all but low-tide and when low-tide aligns with midday they offer tours.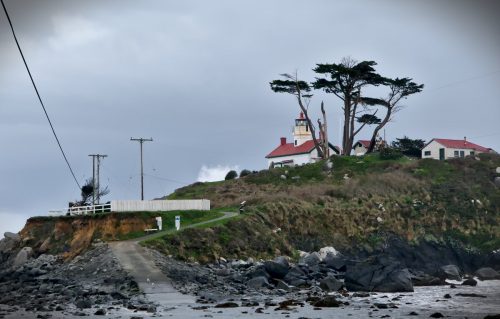 We got there a little early for the tour, so we headed to the Apple Peddler for lunch where we narrowly avoided getting caught out in an impressive hailstorm.  After lunch we headed back to the lighthouse for a tour.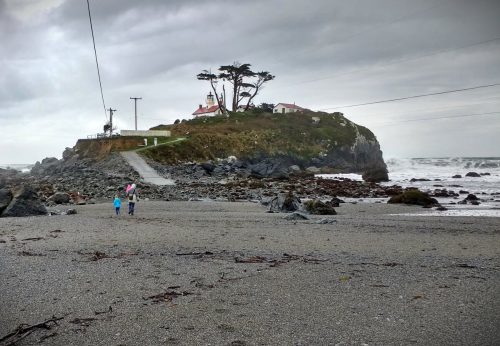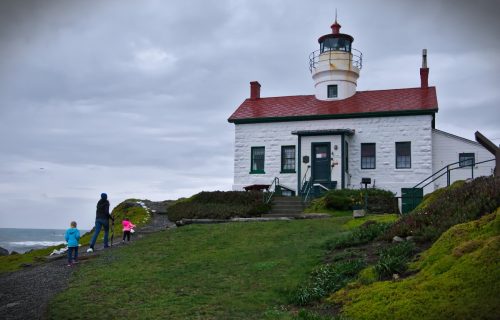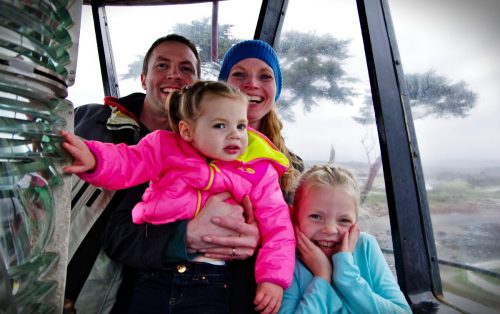 The stormy sea made for some moody pictures I really like: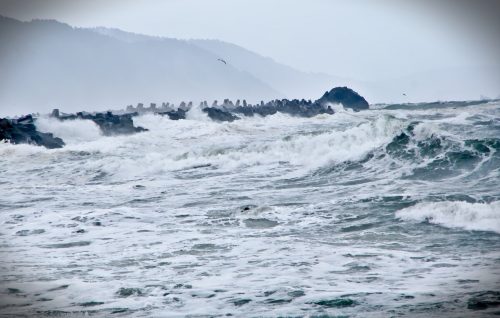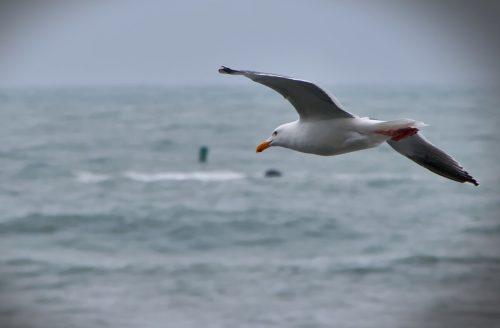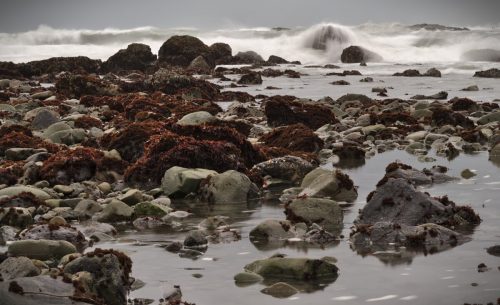 I would have taken more long exposure pictures of the waves, but I didn't bring my tripod, so I took a few by setting my glove down on some seaweed on a rock and putting the camera on that.  This rather limited my subject options.
On the way back from Crescent City we tried Trees of Mystery again, but the power was still out.  However, I snapped this picture from the parking lot.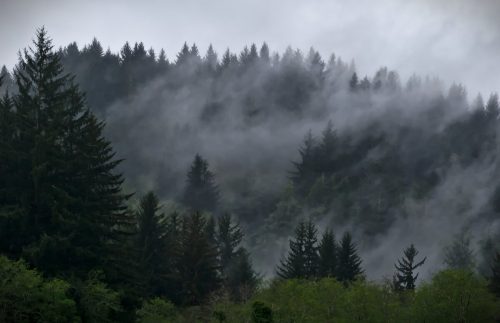 Dinner was at Marcelli's Pizzeria.
Saturday morning we got up and had breakfast/lunch at Kristina's Restaurant before heading out to Trinidad State Beach.  Our GPS unit doesn't understand where that is and attempted to kill us.  It wanted me to drive down some steep, dark, dirt/mud, little one-lane road. I vetoed that option and Jess used her phone to find our way to actual beach access.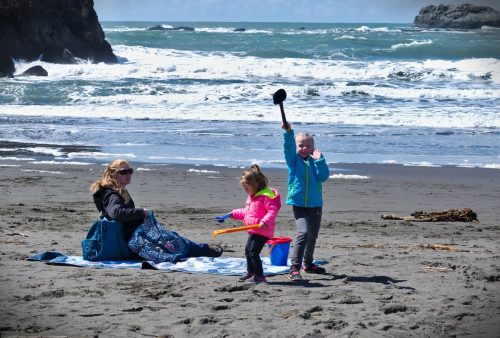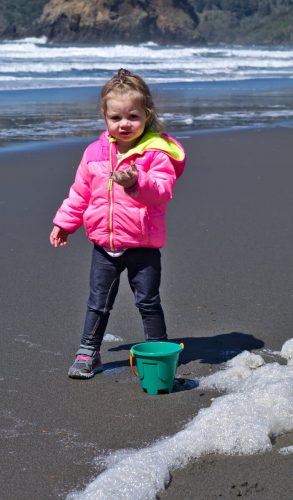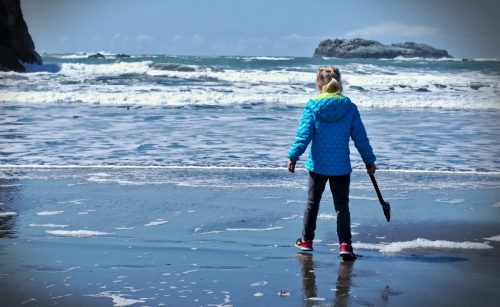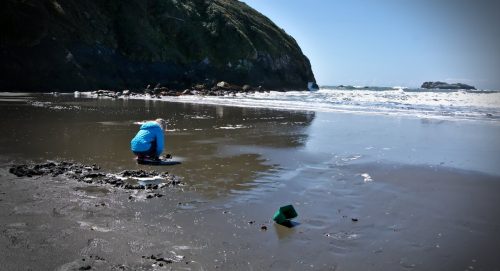 After the beach we ate at the Lighthouse Grill in Trinidad and then headed back in to Eureka to get dessert at Vampire Penguin (shaved snow sundaes).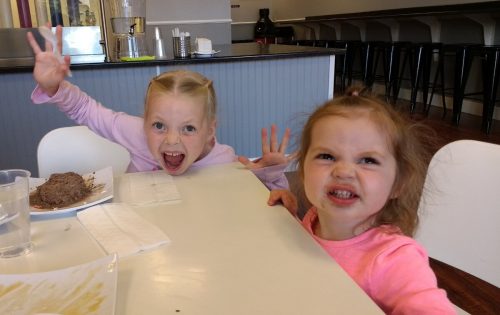 On Sunday we packed up and headed on the road back towards home.  We drove through Avenue of the Giants where I snapped this picture: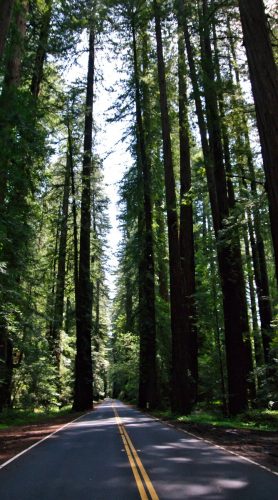 Then we stopped off at Chandelier Tree to see if I could squeeze the van through a tree.  We managed to squeak through but not much room to spare.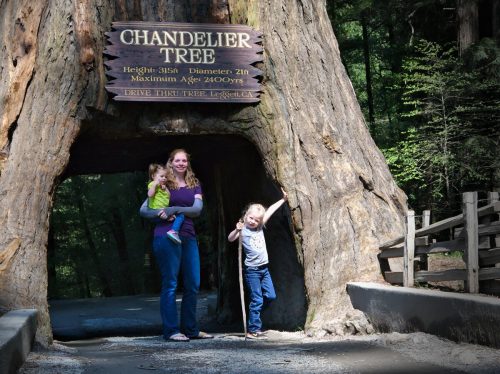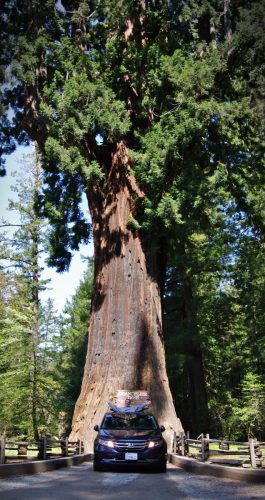 Heather and Corinne desperately needed to get out of the van and run around for a bit, so we stayed at the tree for a little while.  Heather explored the meadow and Corinne played with the gravel.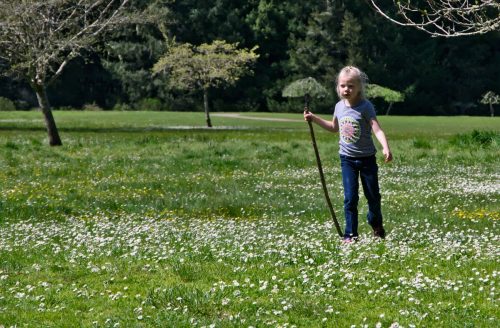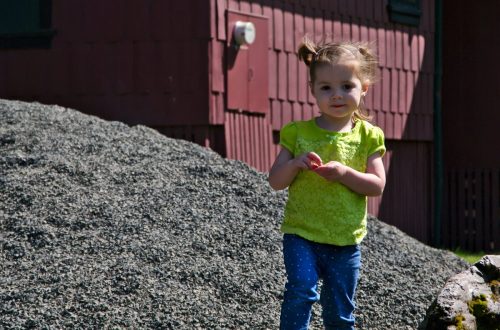 Then it was back in the van until we managed to find a Taco Bell for a quick dinner before pushing on home.