After our Thanksgiving traveling, Christmas was a simpler affair.  We stayed in Livermore and decided to buy our tree from a lot, shipped from Oregon, rather than driving out to cut it ourselves.
In contrast to our cut-it-yourself adventures of the past, though, we did get a very nice tree.  We looked for a Douglas Fir at the tree lot, but the largest they had was barely 5 feet tall.  So instead we got this massive Grand Fir.  It's very full, very green, and the needles are fairly soft.  But I don't think it has as much pine smell as a Douglas Fir.  Economics and specialization being what they are, it was cheaper for someone to grow, cut, and ship this tree to us than it would be for someone to grow a tree here and for us to go cut it down ourselves.  I'm having a hard time selling the cut-your-own-tree Dickerson tradition.
I got the lights up on the house and added some more above the eave over the garage and wrapped around one of the trellis columns.  I had to more-than-double the number of lights we had inside on the tree to get this massive tree properly lit.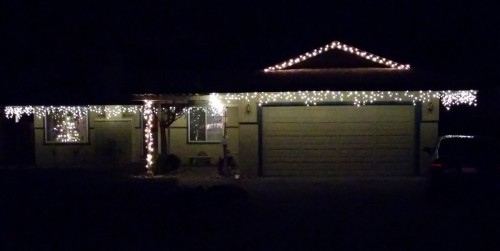 Soon enough it was Christmas Eve.  The Badger family invited us to their house for Christmas Eve.  We stayed there for a few hours, ate snacks (including l'il smokies and wassail), and hung out.  Then it was back home to get to bed and wait for Santa.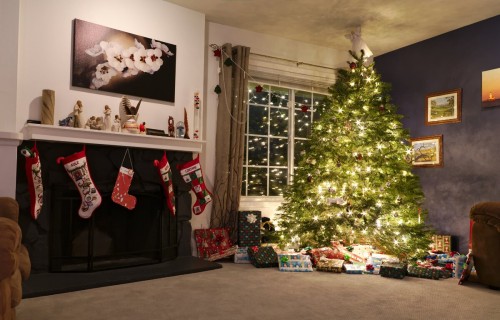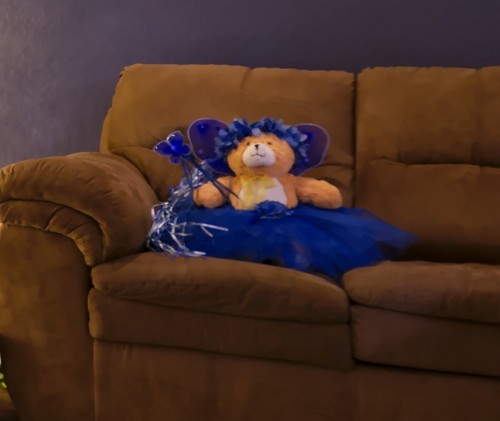 Last year Heather awoke to find various stuffed animals dressed up and sitting on the couch.  She seemed to get a kick out of that and this year she discovered the bear wearing this fairy costume.  Heather came trundling in to our room at about 7:15 am carrying this bear and being concerned / excited about the bear wearing this costume.  She insisted that she wear it instead.  So we put it on her and then headed out to the living room.
I set up my off-camera flash on a stand with a white umbrella in front of it.  In general it made the pictures all come out much better lit this year.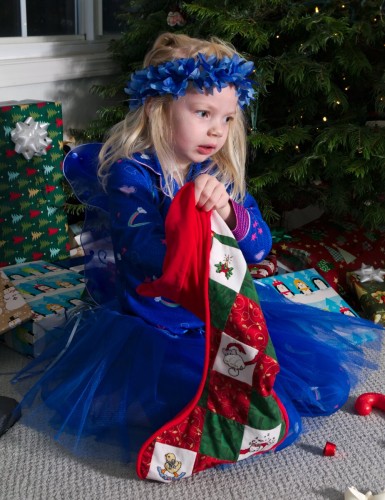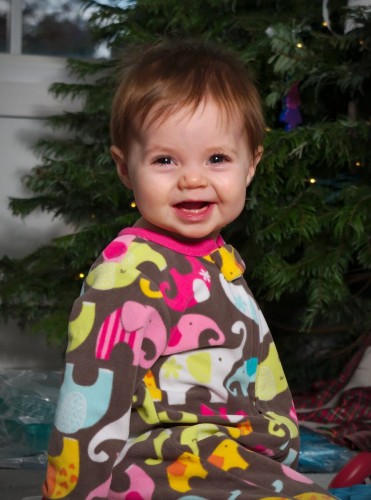 Heather received this booklet (thanks Erin!) which has layers of material on each page.  When the top layer gets wet it allows the colors behind it to pass through.  So it's "coloring" with water.  Heather had played with similar toys at friends' houses and was enthralled.  She ignored everything else and played with this for the next 48 hours straight (minus eating and sleeping).