Jess got to enjoy her first birthday adventure this year. Trying to squeeze an adventure in to the evening while still leaving time to have dinner and eat cake is tough but we got it done.
The adventure started by reading a slightly modified version of "Let's go for a Drive" by Mo Willems: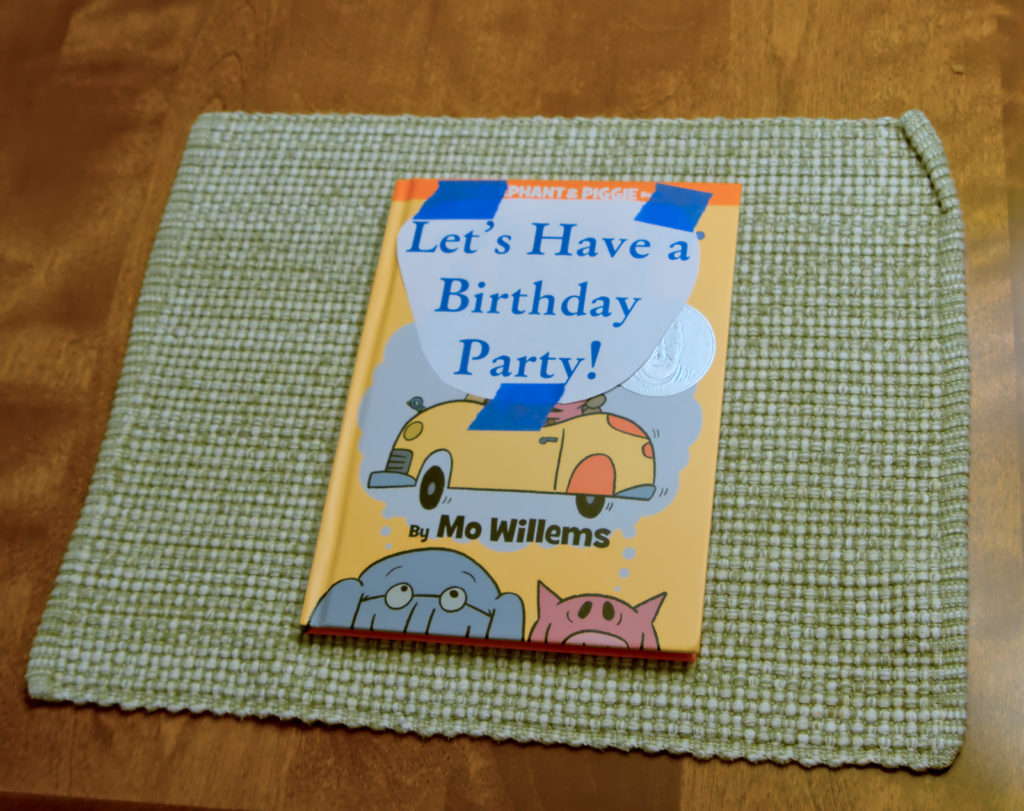 Elephant and Piggy collected Jess, the family, and a cake. But when Piggy went to get the presents they had gone missing! Jess had to find Sherlock Holmes to investigate.
She found Sherlock lounging on the book shelf next to Hercule Poirot. Sherlock was called away on urgent business but directed Jess to a person of interest, but she'd need to collect a few clues to identify the right one from the lineup (of characters from Dinosaur Tea Party).
She visited the friendly moose (a carving we bought in Canada), the glowing jellyfish (a glass sculpture we got at an aquarium that glows in the dark), the grey dragon (a figurine on a shelf in our room), she who fell through the looking glass (Alice as found in "Through the Looking Glass"), and he whose house has legs ("Howl's Moving Castle"). Using the clues they provided she was able to identify the person of interest, Lloyd, and question him regarding his knowledge of the missing presents (by using the identifying features on his character sheet to determine the code for a lock on a mini chest).
Lloyd admitted to being present at the time, but swore he was only trying to get a taste of the cake in the fridge. He tried to follow the suspect but couldn't keep up. However, he ran across "a frog that fancies himself a prince" who might know more.
In the frog's mouth was a cryptex dropped by the suspect. The frog said he didn't know what it is, but she should visit Madame Roo, a psychic, who could probably help.
Corinne helped by presenting the cryptex to Madame Roo while Jess read the clue. Madame Roo was able to divine an image out of the mind of the suspect, but it was confused and difficult to make sense of. Jess would need to piece it together to find the password to open the cryptex (by completing a small puzzle with an "I Spy" style image of a jumble of stuff from Corinne's room. In the image were Scrabble tiles which could be used to spell "FAIRY").
Inside the cryptex was a secret message sent from one of Heather's stuffed animals to one of Corinne's stuffed animals instructing them to wait until the coast was clear and grab the purloined presents from under the chair in the living room.
So the presents had been found and could now be opened.
The girls picked out novelty socks from a store at the mall. Cats in boxes and a tuxedo cat running for president:
She also unwrapped an invitation to tea for two at a tea house in the next town over. And after tea, a special showing of "Howl's Moving Castle" at the theater (which very conveniently lined up with her birthday, I found out about it and bought tickets months ago)
Then it was off to dinner at First Street Ale House before returning home for cake. I made my signature caramel-cheesecake on a blondie crust with a layer of salted caramel on top.
And by then it was past the girls' bedtime and the day was over.