On June 17th we checked out of Hotel Le President in Sherbrooke and had breakfast at a little cafe nearby, Cora's Dejeuners. It was very good and an excellent way to start our first full day in Canada.
After our petit dejeuner, we loaded back in the van to complete our drive to Quebec City. Without a thunderstorm, and traveling mainly on uncrowded highways, driving was pleasantly uneventful. We made our first stop in Quebec at the Aquarium.
We saw the jellyfish, visited the touch pool, and watched the seals and the walruses and the polar bears. There was a room set up in a circle with projectors shining all around to produce an immersive experience. Corinne was awed and proceeded to dance with the videos.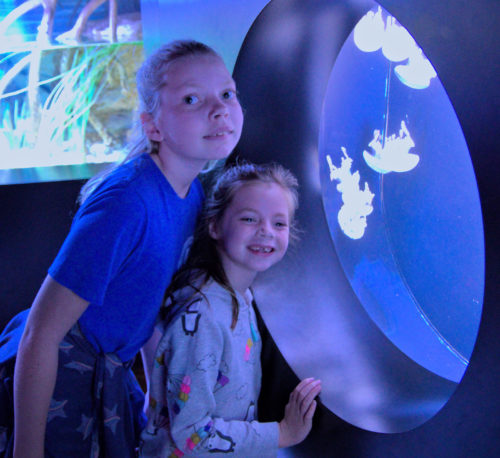 At the gift shop Corinne selected her souvenir for the trip: A stuffed stingray which she promptly named Maple in honor of Canada.
If you hadn't noticed already, Heather is of the age where crossing your eyes for every picture is the height of comedy. So, that's why her eyes are crossed in many of the pictures, including the one above in front of the sand sculpture.
After wrapping up at the aquarium the real challenge began. Get into old Quebec and to our hotel. Driving on highways is fine, but navigating an old city in a foreign language with sometimes unusual traffic signals was stressful. But we made it and parked the van at the hotel and didn't use it again until we left, exactly as planned.
Hotel Terrasse Dufferin is adjacent to the U.S. Consulate which I partly selected on the assumption that it was probably not a bad area. And I was right consulate or not, but the consulate did have a guard outside at all times which would certainly discourage any trouble. It's a very small, old-world feeling hotel, which set the atmosphere for exploring Vieux Quebec.
Our room looked out over the St. Lawrence River and on our first night there was a fireworks show on the far shore (for reasons unknown). Mom and Dad stayed on the ground floor and, unfortunately, did not get a river view.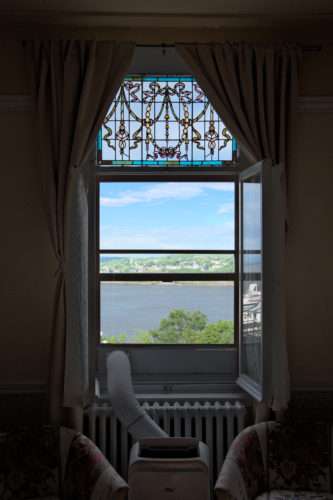 We dropped our stuff and then set off to do a little evening exploring. Just outside our hotel was Chateau Frontenac (which claims to be the most photographed hotel in the world and I definitely helped with my shutter). It would have been fun to stay there, but one night cost as much as our entire stay where we were. So some sacrifices had to be made.
We wandered about down to and along one of the main tourist streets (rue Saint-Jean). We visited a bookstore and I eventually mustered the nerve to ask an employee for a recommendation for a few sci-fi books written in French by French or Canadian authors. I had considered getting a book I already knew in French, but decided it would be more interesting to access something unavailable to me in English. I ended up with 4 books which I hope to be capable of reading before too long.
Finally we stopped for dinner in a boulangerie/patisserie (bakery/pastry shop) we found, La Paillard. And there are few more enjoyable dinners than one made of bread and pastries from a boulangerie/patisserie.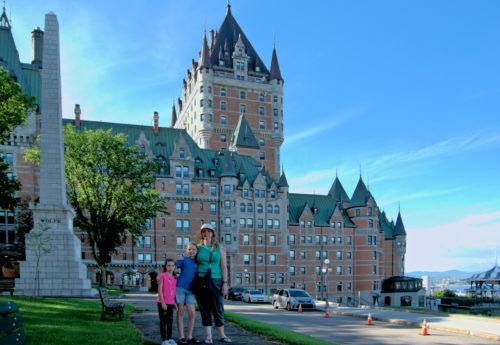 Then back to the hotel for the night.