FINALLY, both the girls' bedrooms are completed! It was weeks of turmoil and a lot of hard work from all of us, but they are done! I really didn't think Heather would handle the transition to her new room (the old office) well, but she has done great. We involved her in the process as much as possible, and I think that helped a lot. She picked the paint color, helped put the butterflies on the walls, and helped move everything (books, toys, clothes, etc.) from her old room. And she loves her new room!
The nursery has turned out great, too. I love the color, and I think everything is organized well.
A close-up of the owls and snails: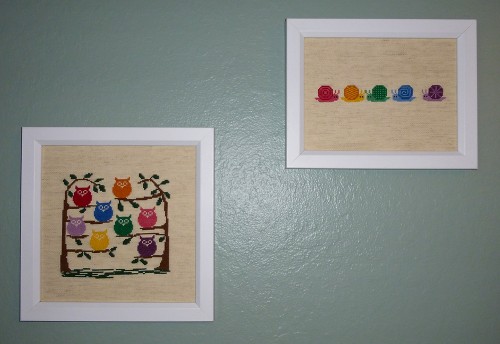 The decal above the crib says, "Twinkle Twinkle Little Star, Do you know how loved you are?"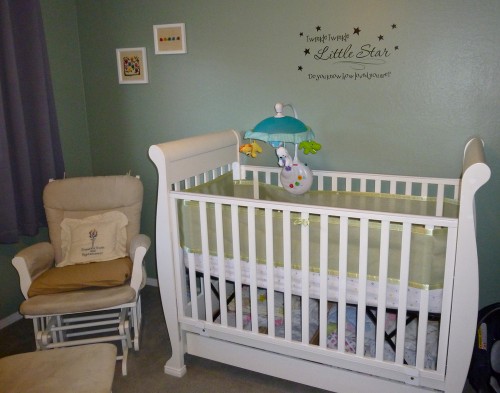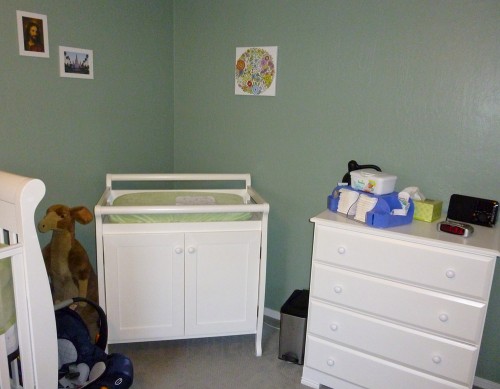 When I eventually finish Corinne's birth sampler, it'll hang above the dresser.
I am so relieved to finally have those rooms done. I am 38 weeks along tomorrow (2 more weeks to go!) and have been itching to just be READY. I haven't packed my hospital bag yet, but that's just about all I have left to do. Car seats are in and everything! Just hoping Corinne holds off until Kyle's mom gets here, and then we will be ready to roll!