Quarantine Day 30
Protestors in Michigan hold gatherings and block roads to protest shelter-at-home orders.
Trump continues to place ego above efficacy and requires relief checks be branded with his name (by some reports delaying them from being sent).
Retail spending in March dropped a record 8.7%. Clothing down over 50%, furniture down over 25%.
Texas considers implementing oil-production limits to prop up pricing.
Livermore cases: 28 (yesterday was 29, maybe I misread or maybe it got corrected)
Alameda County cases: 924; deaths: 35
U.S. cases: 605,000+; deaths: 24,500+
We held two interviews for work yesterday via video conferencing. So that's becoming the new normal. The Lab is still scrambling to figure out how to run a Summer Student program remotely and whether they can waive the mandatory pre-employment drug screening since students won't be able to get one in most places.
The weather is nice now. Warming up to the mid-70's.
I spend most of my day in my closet working. I don't have a good awareness of what insanity is happening in the rest of the house. Occasionally, Corinne will wander in to my closet and ask if I can play.
Jess and I have been watching the TV comedy "Community" that aired from 2009-2015. It's on Netflix now. Trying to balance the new stresses of daily life with some laughs.
We're out of milk again. I walked down to the Mexican market over the weekend to buy more. But they only had two gallons, so I only bought one. I guess I'll have to head down to Safeway tonight to see what the shelves look like now.
On my walk today I saw an ice-cream truck driving around. It's probably not supposed to be doing that. Also, landscapers and house painters seem to have mostly declared themselves exempt from the shelter-at-home orders.
I see I forgot to post Jess' most recent cross-stitch project. Particularly appropriate now, but also a general life motto around here: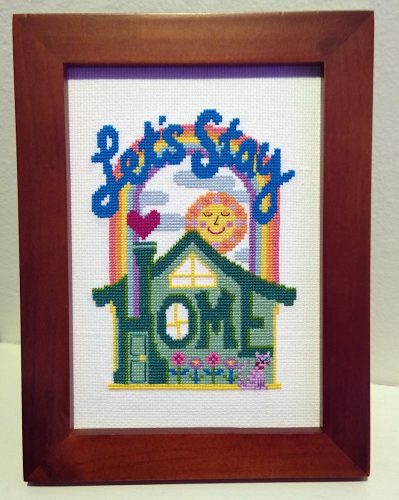 Orange blossoms being visited by bees on my walk: