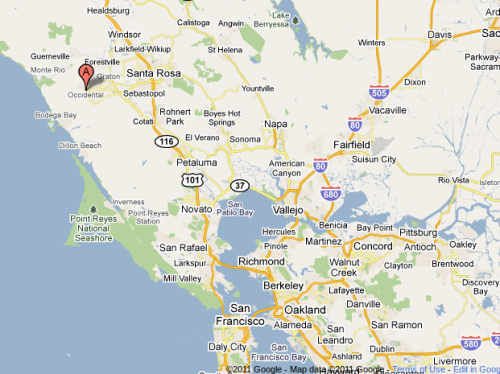 Last weekend we took a little vacation to celebrate our 2-year anniversary.  We booked a room at the Inn at Occidental (in Occidental, CA).  It's a tiny little town west of Santa Rosa.  The town has a population of 1,115.  It's up in the "mountains" (for lack of a better term) surrounded by woods--nice and quiet.
There was a fish-eye-view mural on the side of a building, it really does show pretty much the entire town, excluding most of the actual houses:
The Inn was very nice.  They have about 20 rooms.  When we arrived they had music playing in our room for us (a CD Jess ended up buying).  The room had a Jacuzzi tub with some silly rubber ducks in it.  The ducks had trouble staying upright when actually in water.
A hot breakfast was included and was served in their dining room on the bottom floor of the main building.  They had a fixed menu each day, but were very accommodating to any desired changes.
Coming up next: Part 2 - Armstrong Redwoods, Part 3 - The Horticultural Gardens of Doom, Part 4 - The Ocean