Quarantine Day 24
Another 6.6+ million first-time unemployment filings.
Congress is discussing a 4th round of relief/stimulus spending.
The Federal Reserve announces another $2.3 trillion in new lending programs.
U.K. Prime Minister leaves ICU (still in hospital).
Livermore cases: 28 (new level of detail from Alameda County)
Alameda County cases: 681; deaths: 16
U.S. cases: 427,000+; deaths: 14,600+
Researchers report having found evidence suggesting the "5g causes COVID-19" conspiracy theory is being pushed by a state-sponsored disinformation campaign. And there are apparently enough people stupid enough to make such a campaign worthwhile.
I went to bed last night around 9:15 with a pounding headache. And then Corinne was up for ~3 hours in the middle of the night. I was sleeping poorly already, so that really didn't help. So I'm pretty tired today.
A package from Mom arrived yesterday containing some packs of Skittles, some microwavable popcorn, a container of sugar cookies, and some masks she made. I'll try to get a picture of all of us wearing our masks at some point.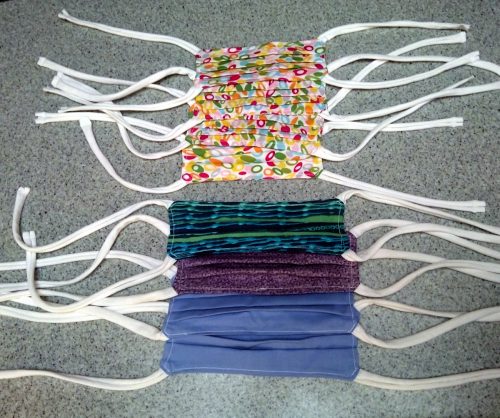 Not much else going on. The weather was supposed to become sunny this week, but it's still been mostly cloudy and rainy. Now the nice weather is scheduled for the weekend.