Well, we made it out to California! Kyle's currently at his first day of work, while I'm here at the apartment with the movers. I figured while I was sitting around checking off box numbers, I should get this blog going. There's a lot to catch up on!
June 23, 2009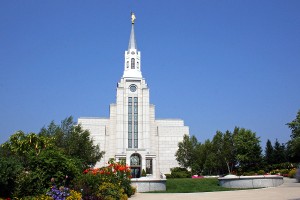 First things first: the wedding day! Considering how crazy the previous week had been, this actually went fairly smoothly. I won't lie, though: I was very relieved when we finally arrived at the temple, since that meant that the wedding would actually happen. Jenny curled and pinned my hair for me like a champ, and it looked great. She even re-curled it about 47 times throughout the day. What a great sister-in-law! (Side note: I'm excited to have gained 3 more sisters-in-law! I always wanted sisters, and I now have more sisters-in-law than brothers (ehhh...as long as we don't count brothers-in-law...).) Everybody arrived at the temple, paperwork was in order, we had the rings, and it was grand. I was so excited, I couldn't quite hold still. But things went well, the sealer gave us some great advice (most of which I don't remember), rings were exchanged, and we were married! That was such a good feeling, just knowing that the only thing that really mattered was done, and I just had to get through the rest of the very long day. I was able to send some triumphant texts to absent friends and family, so they'd know that I was finally married!
We took pictures outside the temple, and the weather actually cooperated! It had been raining for at least a week straight out there, but the rain and I have been close compadres my whole life, so I knew it would do this for me. The only rain we saw all day was while we were finishing up pictures, and that was just a light mist that didn't interfere at all. (I don't have any pictures yet, so they'll have to go into a separate post later on. Sorry!)
The luncheon was at the Clarion Carriage House Inn in Sudbury, MA, and it was wonderful. We were all starving by then, and the food was delicious. It was nice to have both our families together, too.
After the luncheon, it was time for the 2-hour drive back to CT. The reception was at the Lily Lake Inn in Wolcott, CT, and it was also great. The grounds there are gorgeous, and we were able to get a few pictures of Kyle and me before the reception started. Not many, though, 'cuz we were both exhausted by this point. The reception itself was fun: I got to meet some of Kyle's old friends from high school, which was neat. And the food was, again, delicious. (I think I'll look back on all the food from our wedding day with fondness for a long time. So tasty!)
At long last, everything was done and we were ready to head out. It'd been a long day and we were exhausted, but it'd been good. And we were married!