Comet NEOWISE is making its closest approach to Earth today. Last night I drove up into the hills southeast of Livermore to try and get a look. Visibility was apparently better earlier in the month when the comet was closer to the Sun, but it was also only visible just before sunrise and that just wasn't going to happen.
I used online maps to scout out what I thought would be a good vantage point and I drove out just after sunset. I got to the dirt road and across the cattle guard then I had to wait for the cattle to get off the road. Once they moseyed on their way I climbed up the hills until I had a pretty good view over Livermore. Then I got my camera set up and played around with the moon while I waited for it to get darker.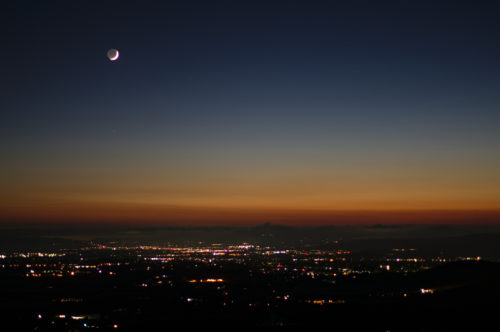 I still couldn't see the comet with my eyes and it looked like the main problem was light pollution. But I figured I could use my camera to find it. So I pointed it in the general direction, zoomed out to 50mm, and took a 20-second exposure. I did that a few times before I found it. Here's the first shot I got with the comet in it straight off the camera: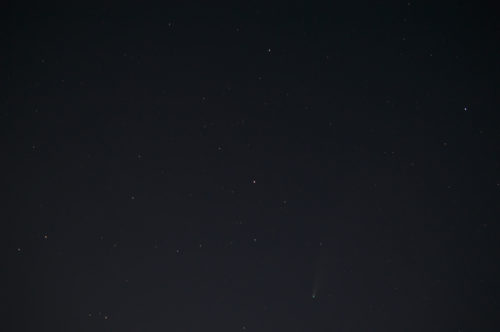 It's right near the bottom, about a third of the way from the right. So I carefully adjusted the tripod to center the comet and then zoomed in to 200mm. The light pollution made it really hard to pull out the details of the comet. Here are my best two shots: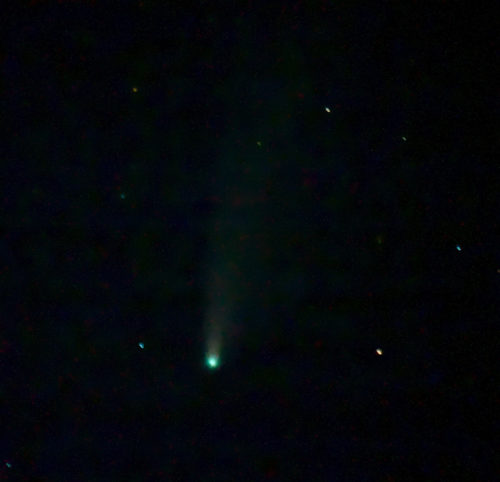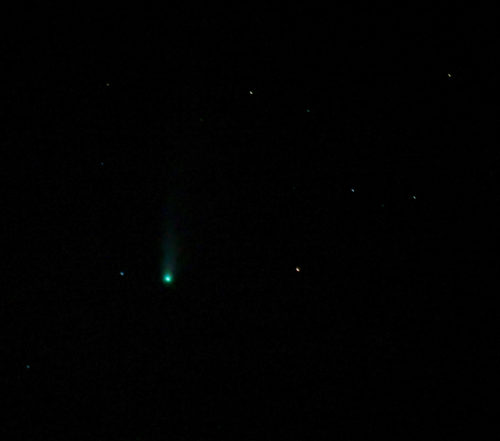 Then the moon was setting and became a tiny sliver of deep red: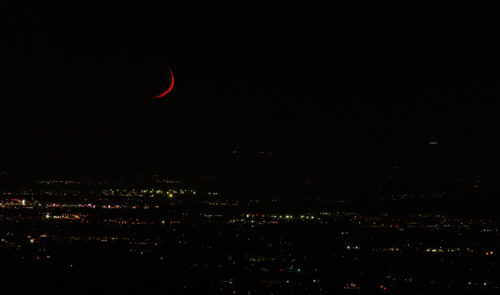 And since I was already out there I turned my camera around away from town and go the stars behind a utility pole:
The K-7 struggles in low-light conditions. It's 11 years old and sensor technology has improved dramatically in that time. I'm planning on upgrading in the near future. Pentax is releasing a new APS-C flagship later this year which I'm keeping an eye on. If reviews are positive I'll probably pick one up. It should be a considerable leap in image quality, auto focusing, and low-light performance.