Today was Heather's first day of public school: Transitional Kindergarten.  TK was created when they moved the enrollment cutoff from Dec 31 to Sep 1.  It's billed as helping the kids prepare, but it's only for the kids born during Sep-Dec.  Which makes no sense since those kids will now be the oldest in their classes.  The only logical explanation I can come up with is that it only exists to appease the families that weren't planning on paying for another year of daycare.  Which, to me, means it should have only existed for a couple of years while the school system transitioned.  But it's here to stay even though it makes no sense.
Anyway, Heather falls in that range so she's enrolled.  5 hours every day.
She had a blast.  So hopefully that continues.
In the morning, ready to walk to school: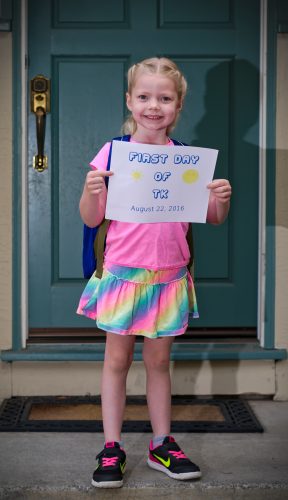 I held my off-camera flash arms-length to my left which filled in nicely I think.
Coming out when school was over:
And Corinne coped by perching herself on the window sill, with a frog (that's the coffee table under her feet):