Quarantine Day 194
Livermore cases: 880
Alameda County cases: 20,346; deaths: 395
U.S. cases: 7,009,000+; deaths: 203,000+
Our air has finally cleared (though plenty of fires still burn throughout the state). We had actually blue skies this week for the first time in what feels like months.
I decided it really need to be fall around here so I bought some fall-themed t-shirts to wear and ordered an 8-foot tall, artificial maple tree and set it up in the living room. It also lights up. I didn't really care about it lighting up, but that's what I found and it actually creates a nice ambiance at night. I can turn the tree lights on and my fake fireplace lights and it makes the living room a bit cozier. Jess ordered some new curtains and hung up her fall, crocheted things garland. So it feels a little more like fall around here and not perpetual March.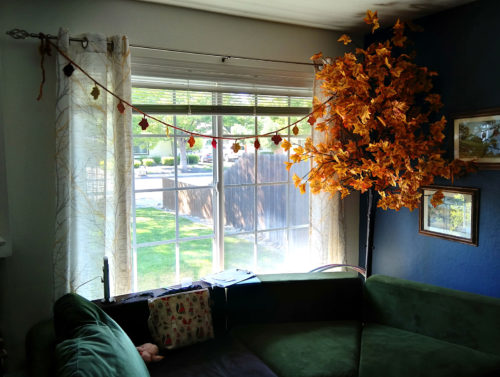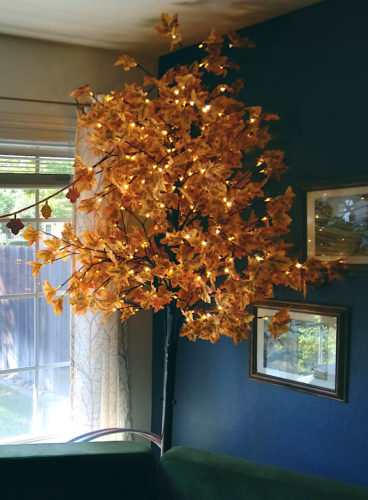 We went and got flu shots yesterday. The drive-in clinic took an hour and a half and Heather had a full-fledged freak out when it came time to get her shot, but we made it through.
I've gone to work on site a few more times recently to get some more things done. But I've mostly been continuing to work from my closet.
Two weekends ago (Sunday the 13th) Corinne had a fever after complaining of joint pain the day before. The advice nurse told us to keep treating her symptoms and to call back if she got worse. Her fever continued through Monday, but she seemed to be fine by Tuesday and she's completely fine now. No one else has exhibited any similar symptoms.
--
My friends group tried to play more Dragon Strike on Thursday but the technology was not cooperating so we couldn't do it.
--
Since last weekend was Jess' birthday we didn't play the final Dragon Strike adventure, maybe we'll do that tomorrow.