This year's Dickerson Family Vacation was a road trip to Colorado to see Jess' family.  Along the way we stopped in Utah and on the way back we visited Mesa Verde National Park, Four Corners, and Grand Canyon National Park.
We loaded up the car and left Livermore on Saturday morning, August 25.  Loading up the car was interesting.  I had to draw on my extensive Tetris skills in order to get everything to fit.  But our little Civic has a surprising amount of space in it if you're careful in how you pack it.
We didn't know how Heather was going to deal with long stretches in the car so we planned on fairly short distances for each day.  The goal for Saturday was to get at least to Winnemucca, NV (about 6 hours of driving) and any further if possible.
Heather did pretty well in the car. But due to exhaustion on our part (I had a 24-hour ShipIt! Day [or Hackathon] at work Thursday-Friday and Friday night was late with preparations) we only just made it to Winnemucca before giving up for the day (at about 4 pm).
On Sunday we drove to Lehi, UT and stopped to visit our friends BJ and Tianna.  Here's Jess with Tianna and the kids: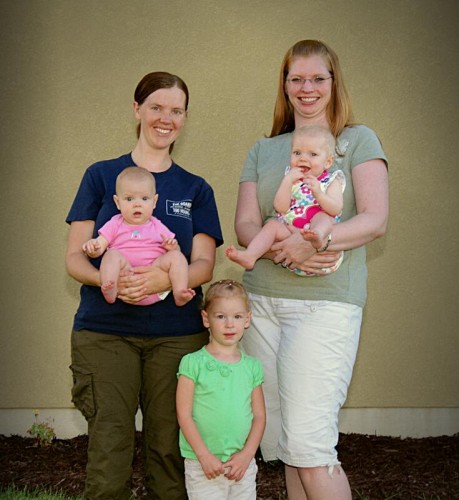 We stayed with them Sunday night and on Monday continued on down to Provo to visit Erin's family.
We hung around their house and watched Will play a soccer game:
In Provo we stayed at the Springhill Suites by Marriott which were actually quite nice.  The building is either new or newly renovated; either way, it's probably the nicest not-trying-to-be-fancy hotel in Provo.  The rooms have a modern design with plenty of power outlets which is nice when you have a slew of gadgets to charge.
On Wednesday we packed up the car once again and headed on towards Colorado.  After exactly one tank of gas we arrived in Glenwood Springs, CO which was our destination for the night.
Thursday we got up and going in order to make it to Idaho Springs and meet up with my old roommate Brady.  He and his wife live in Colorado and were traveling along I-70 in the opposite direction on their way to Utah and then the Grand Canyon and it happened to work out for us to meet up along our ways for lunch.
We hit some heavy storms as we went under the Continental Divide.  It had started to drizzle as we entered the Eisenhower Tunnel and when we came out the other side it was raining sheets and there was lightning on the mountains.  We don't get thunderstorms in Livermore, so that was fun.
Despite the weather we made it to Idaho Springs and ate at Beau Jo's Pizza with Brady and Rachael which was quite good.
After lunch in Idaho Springs we finished our out-bound driving and arrived in Colorado Springs where Jess' brother, Christopher, and his family live.