Erin gave me a table and chairs she was replacing back when I was in grad school. We've been using that table ever since. I bought replacement chairs in 2015 because the chairs I received from Erin had essentially fallen apart by that point. But now it's time for something new!
A new dining set (large enough to eat dinner at while putting food on the table; and to play games at without running out of space) has been on our list for a years and we finally worked our way down to it. We put an order in with Canadel through a local distributor (Roney's Furniture in San Leandro) at the beginning of June.
In the past we bought our nightstands and dresser from Roney's and were really happy with the non-pushy workers, their knowledge of the products, and quality of the furniture. So it was our first stop looking for a dining set.
I made a reconnaissance trip by myself to get the preliminary information about how ordering a dining set works from them and what options are available. They directed me to the Canadel website which has all the customization options with a visualizer showing what your finished product would look like. Super handy for visualization-challenged people like us. We played around with that and narrowed down our ideas.
Then we made another trip to Roney's to finalize decisions and put our order in. Roney's happens to be just around the corner from a Ghirardelli Factory Outlet, so when we reached our decision-making breaking point (stains, fabrics, fabric colors, chair styles, table-edge styles, table-leg styles, etc.) we went and got ice cream to reset our energy levels.
We made our decisions, placed the order, and were given an estimate of 2 months due to everyone's logistics being all messed up. And then we waited.
And waited.
2 months came and went and Jess called for an update. No information except that the manufacturer hasn't been able to make it yet.
2 more months came and went and Jess called for another update. Manufacturer still hadn't made them yet, they've been waiting on a part. But they hoped to ship it by the end of October.
The end of October was busy for us with Jess' parents visiting, Heather's birthday, and Halloween. So Nov 2 Jess called again to ask if there was an update and the worker at Roney's told her it was coming off the truck that very moment. They would inspect it first, but would we like to schedule the delivery for the next day? Yes!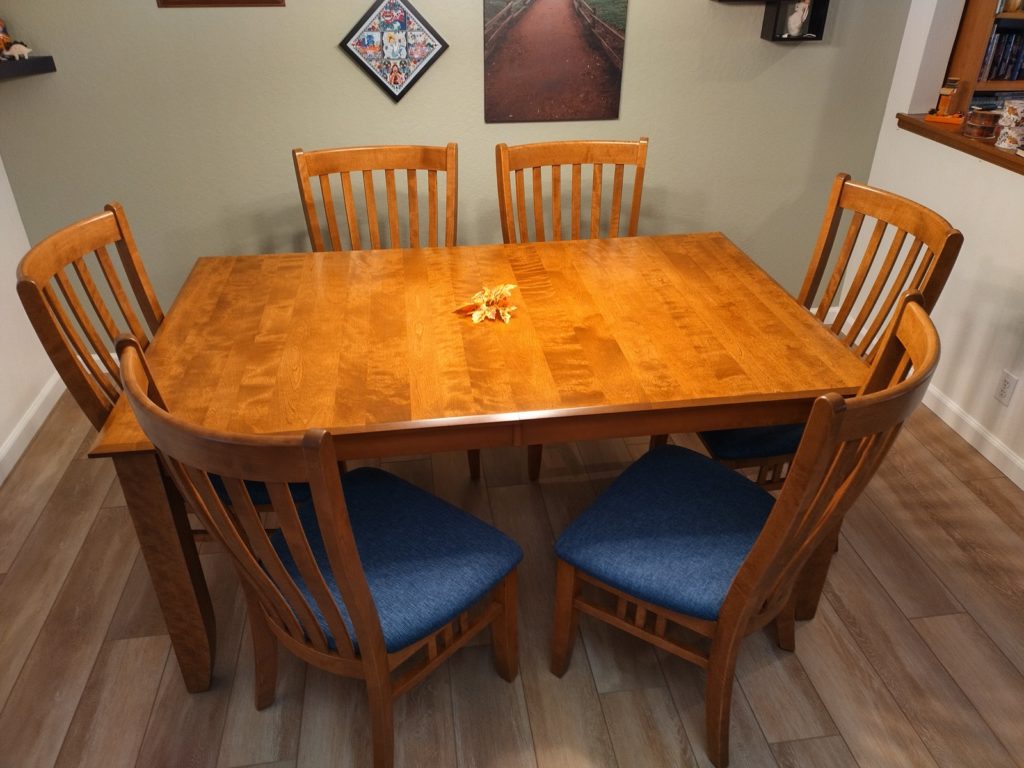 Not shown are the two counter stools. Same color and fabric.
The table has a leaf which stores underneath and nice metal-geared tracks on which the halves slide apart.
The worker at Roney's steered us toward these chairs. Actually he steered us to a different design first as the most comfortable dining chair ever. And it was incredibly comfortable, but it had these wing-tip points at the corners which would almost certainly get dug into drywall (especially in our not palatial space) or hurt when run into by children.
So we asked what was similar, but without that pointiness and he suggested these. They are still super comfortable. So much more comfortable than the chairs we had. Spending extended periods of time playing games should be quite pleasant now.
We didn't think it was going to be an issue when we ordered in June, but we're very excited to have our new furniture in time for Thanksgiving. And it should last us for every Thanksgiving we have from here on out.