Saturday was the first Saturday of December, so it was time to kick off the Christmas season! We started by sleeping in (this is our preferred way to start all Saturdays). But then we got going by decorating Albert!
(Why yes, Mother, that is the angel that usually hangs on the wall. But we couldn't find a tree-topper we liked, so Kyle made her a cardboard petticoat and now she's sittin' pretty atop Albert!)
By this time, Kyle had gotten online and seen that Livermore was having some cool stuff downtown, so we headed off to see the SNOW they had brought in/had made/who knows how they conjured it for the kiddies to play in. Safely fenced in, of course: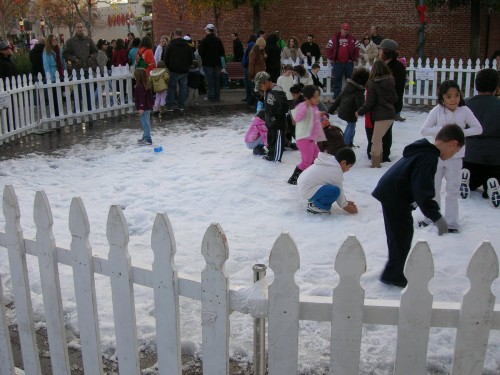 Honestly, I was so excited to see the snow, but when we got there, it was one of the strangest things I've ever seen. Snow as holiday treat/freakish oddity.
After that, we had two hours to burn before the parade started, so we wandered around the downtown area for a bit looking at shops and such before we got dinner. (We also stopped in at the famed Donut Hole Wheel (Hole? Jess is ridiculous -Kyle) for an appetizer. Tasty! (And we learned that they sell frozen cotton candy, so you know we're gonna be going back for that.)) We ate at an Italian restaurant we've been meaning to try, which was pretty good, and then went back for the parade.
Okay, so it's not exactly Utah-winter-cold here. But after the sun goes down, it's pretty chilly. And, actually, it's quite extra colder than usual this week, so yeah, it was cold. But we found a good spot and only had to wait 20 minutes or so before the parade started. At first it was fairly lame, but it got better. My favorites were the lighted tractors, lighted motorcyles, and all the old cars from the Altamont Cruisers. There were a ton of those, and almost all had put lights on their cars, too, which was neat. Here are a couple pictures of the motorcycles: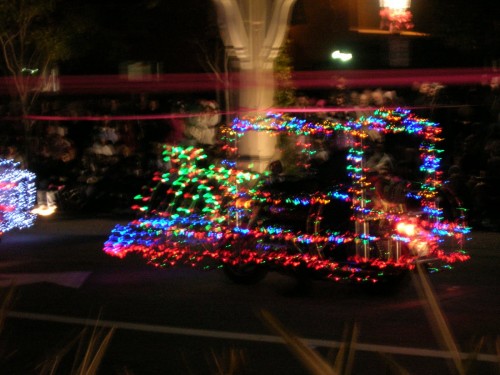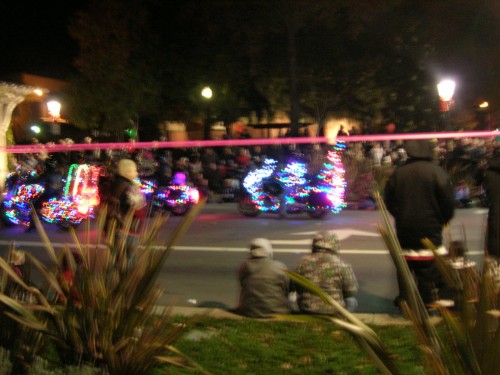 Oh! And Waste Management had a surprisingly awesome bit, including motorized garbage cans and miniaturized trucks. Trust me, it was way fun.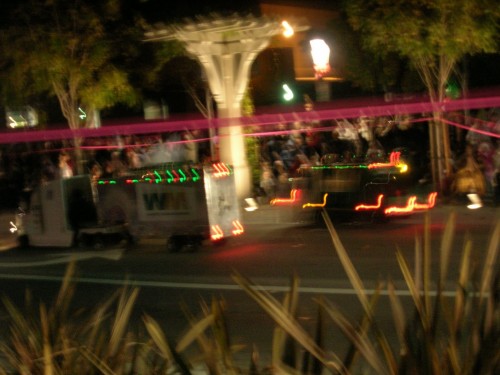 After over an hour, Santa finally arrived atop a fire truck. He climbed down and lit the tree, which meant we could finally go home. I'll admit that that's what I really wanted at this point.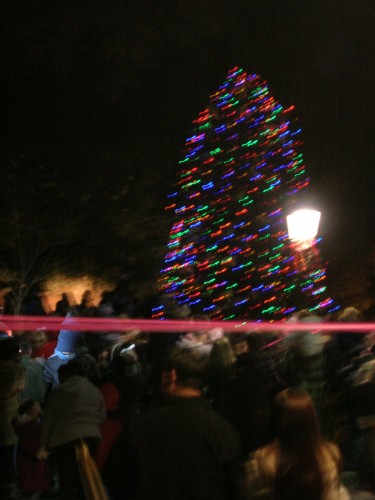 After we got home, it was definitely time for hot chocolate. And popcorn, to watch The Muppet Christmas Carol! I was so stoked. I love this movie a ton. And it didn't disappoint (how could it?). Man, that's some good stuff. (Don't worry, all you Charlie Brown fans out there; we watched A Charlie Brown Christmas last night.)
So that's how we kicked off our Christmas festivities. It was a lot of fun, and it's feelin' really Christmasy around here now...