I've been needing a new white dress shirt for many months now.  The collar on my old shirt was pretty beat up.  But shopping for dress shirts is lame so I kept putting it off.  As I was considering my need of a new shirt I was thinking it would be nice to have a shirt that actually fit properly, which seemed like it would entail shopping for a shirt and then getting it tailored.  That seemed even more lame than just shopping for a shirt.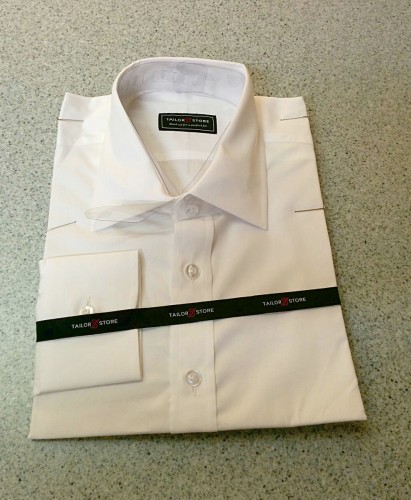 So, as I am wont to do, I did my research.  And I found Tailor Store.  It is a Swedish company which allows you to order custom-designed and custom-fit shirts without leaving home!  You might be thinking that a custom made shirt is going to be expensive.  It can be, but it doesn't have to be.  Tailor Store offers a poplin, white, cotton fabric for $49.  So I figured it was worth a shot.
You can customize every single aspect of the shirt if you want to: fabric, button color, thread color, cuff style, collar style, pocket, embroidery, elbow patches, etc.  Despite the level of customization available the user interface is quite good.  I'm impressed they were able to keep it as simple as it is.  I was just going for a classic white shirt, though, so my design process was pretty straightforward.
But the real convenience is the custom fit.  If you put in your height and weight they'll set some starting values for all of the needed measurements and they provide explanations and tutorial videos for how to take each measurement.  Jess helped me take the actual measurements to make the final adjustments.
Once you place an order the information is sent off to their manufacturing facility in Sri Lanka where it's custom made and then shipped out.  Shipping does cost you though, $20.  So the total cost for the shirt was $70.  But that's still pretty great for a fully custom-designed and custom-fit shirt.
I placed the order on October 8 and received my shirt today, October 19.  Eleven days to have it custom-made and then delivered from around the world is pretty good in my opinion.
And it fits great.  I am very pleased with the result.  If I had need for more nice shirts I'd definitely order from them again.  And since the measurements are already done it would only be a matter of designing a new shirt and placing the order.