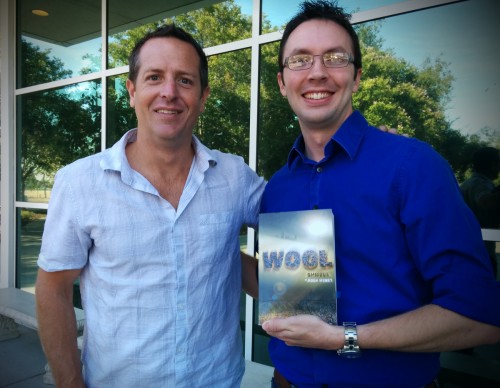 One of the employee morale groups (for lack of a better description) runs a series where they invite authors to come and speak about their work and meet with employees and then get a tour around the Lab.  Back in April or May they asked if anyone had suggestions for authors to invite out.  I suggested we invite Hugh Howey out.  He's a science fiction author which is always a good match with the Lab population and he has great knowledge of the self-publishing process which would be of interest to aspiring authors lurking about the property.
We were very pleased when he accepted our offer and we arranged for a visit on September 11 while he was already going to be in the Bay Area.
He took a tour of the supercomputer facility in the morning and then gave a presentation and we had a group lunch.  I spent the morning working, but was able introduce him at the talk and have lunch and then tour the National Ignition Facility and the High Explosive Application Facility with him during the afternoon.
It was a lot of fun.  He's a geek at heart which made seeing all the incredible science great fun.  I really enjoy getting to tour other parts of the Lab.  It's easy to stay cooped up in my office and not hear about all the other amazing work being done.
After our tours a small group went down to the Concannon Winery for dinner.  It was a blast to ask him about his work and his experiences in life and hear how those experiences have influenced his writing.  He's an incredibly personable guy and has remained quite humble despite his great success.
I think he enjoyed visiting the Lab as much as we all enjoyed having him.  I highly recommend sitting down with him for a chat if you ever get the chance.  In the meantime, we will all just have to settle for reading his stories.  I can't wait to see what bits and pieces from his visit work their way into his writing.