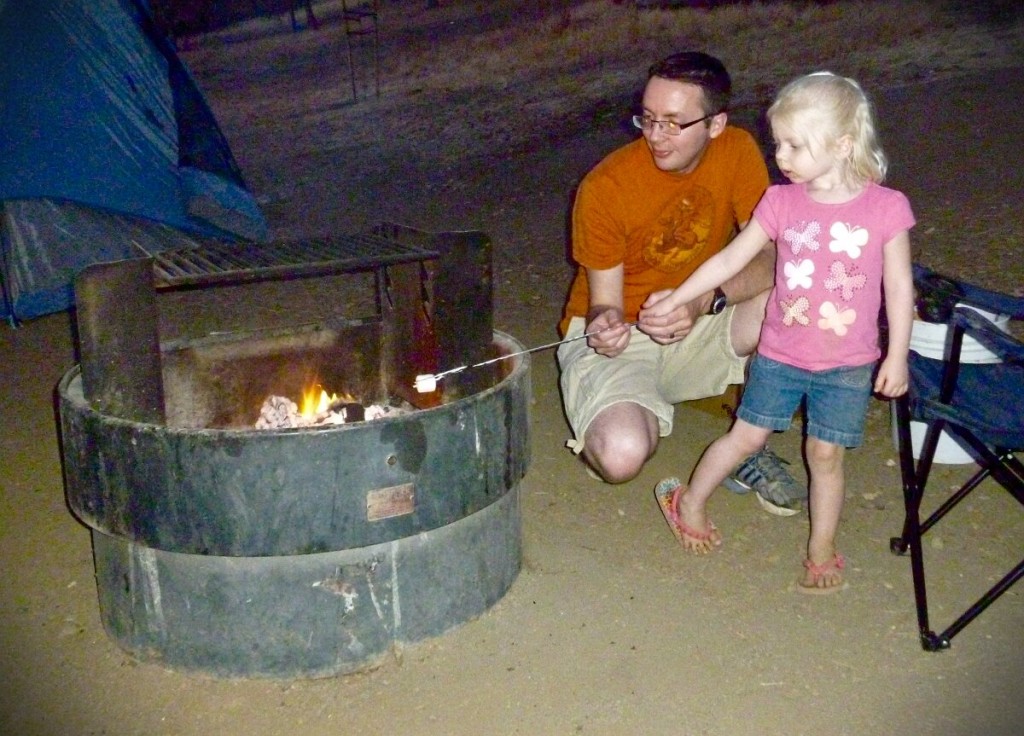 Heather has watched a number of TV show episodes that involve camping.  So when, a few months back, we asked her if she wanted to go camping she was ecstatic.  She knew all about it.  She told us about setting up a tent, and sleeping bags, and a fire, and marshmallows, and on and on.  We decided to play it safe for a first-time-camping experience.  We booked a site at Del Valle, which is just on the edge of town, for a Friday night back in August.  If the night turned into a disaster we could just bail and drive home since we'd only be 15 minutes away.
In the future we won't be returning to Del Valle.  Apparently it's kind of a party campground.  There aren't enough bushes and trees to separate camp sites so it's mostly like camping in a huge group with a bunch of people you don't want to interact with.  Regardless, Heather had a blast.  She ate a hot dog in a bun for the first time and she had her first S'more.  She thought the S'more was alright, but wanted the marshmallow and chocolate without the graham crackers (funny, since this morning she ate an entire package of graham crackers).
We survived the night, went home and then everyone took a 3-hour nap.
Last weekend was the Daddy-Daughter Campout with church, for which Heather was also super excited.  It was up in Redwood Regional Park.  The main benefit there is that it's a singular group site.  There are no other camp sites around it so you have much more isolation.  That and there are a lot of trees and bushes.  The camp site is a cleared area within all this growth.  That was a more pleasant experience overall.
Heather was a trooper and didn't even fuss when it was discovered I had not, in fact, packed the hot dog buns and ketchup like I thought I had.  She happily ate her hot dog without either.  My night would have been a little more comfortable had I checked the air mattress before leaving though.  It had a pretty substantial hole in it so I was flat on the ground by midnight.  Heather slept great on a pile of blankets.
She's already asking when we can go camping again.  So I guess we need to start buying useful equipment instead of just making do with whatever we can find.