Heather and I were supposed to go camping a couple of weeks ago.  I had made a campsite reservation back in May.  The weekend of our trip had cool and comfortable weather--and we were all sick with hand-foot-and-mouth disease.  So we had to reschedule.
I booked the same site for this weekend (June 3-4) and we had roasting 99F weather all week leading in to our trip.  We camped at Joseph Grant County Park in Santa Clara County at the base of Mount Hamilton.  Luckily, after we climbed up into the hills where the campground is, the temperature was at least 10 degrees cooler and there was good shade (I scouted out likely shady sites using Google Maps beforehand, shade is key).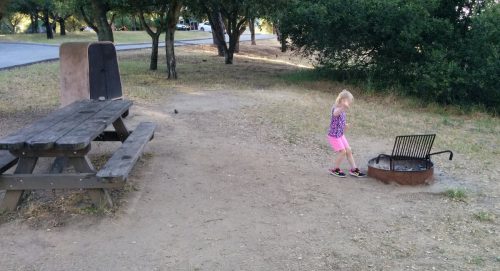 We got to the site around 6:30 and got the tent all set up.  Not wanting to need to get a fire going to cook or eat something hot, I opted for Subway sandwiches for dinner.  We ate those and took a little walk up to an observation hill as the sun set.
After the sun set and things cooled down a bit we got the fire going to prepare for s'mores.  Heather was pretty fascinated by the concept of arranging the wood to allow oxygen flow to help the fire.  After a few false starts she was able to muster up the courage to add a couple of sticks after the fire was going.  She also tried roasting her own marshmallow; it caught on fire in about 5 seconds.
Heather particularly liked the way the fire made everything "look all glowy."  Like this: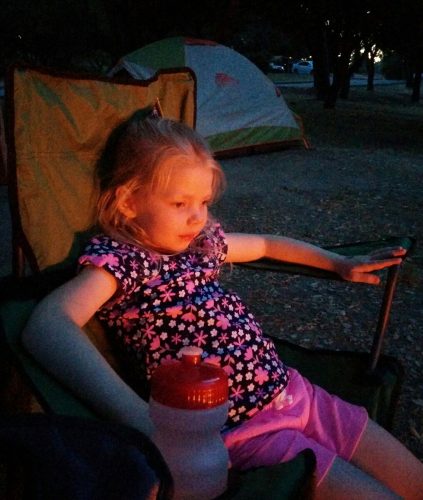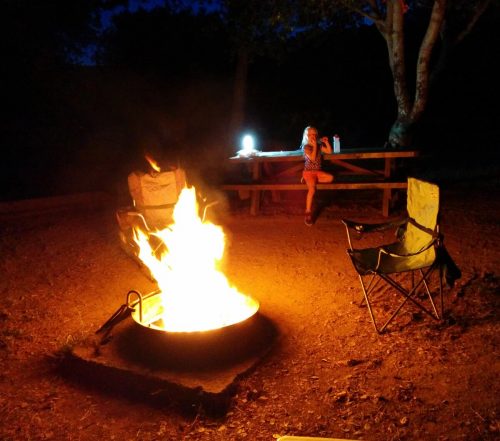 Heather fell asleep around 10:15 (usual bedtime ~7:30) and I stayed up a bit longer to enjoy the quiet and let the fire die out.  Then she was up with the sun around 5:45am, declaring it "not night time anymore."  So....we're both a bit sleep-deprived today.
Breakfast was Fruity Dyno Bites (Heather requested a cereal breakfast and it's hard to argue with simplicity).  This brought us to about 6:30am so I figured I would break camp while it was still cool and overcast as the forecast was for another hot day.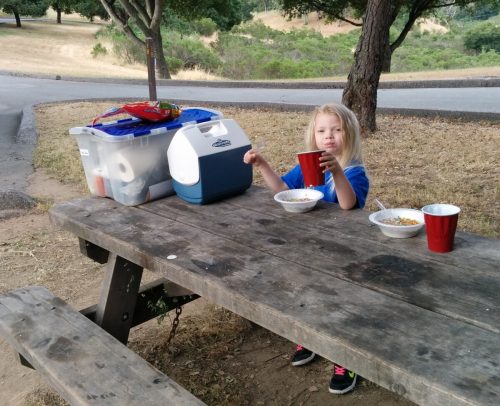 Due to really annoying flies, Heather asked if she could just sit in the car, so she did (somewhat surprisingly, I guess she was kind of tired).  I was taking the tent down and noticed a oddly worn-out spot on the floor underneath one of our sleeping pads (this tent floor is the same nylon material as the sides, not a tarp bottom).  I figured there must have been a pointy rock under the spot, but it actually felt like a little hollow space.  I thought it odd that a hollow spot would cause that much wear on the material.  Then I folded up the tent and saw the tent footprint underneath.  It had a hole clean through it (picture taken after getting home).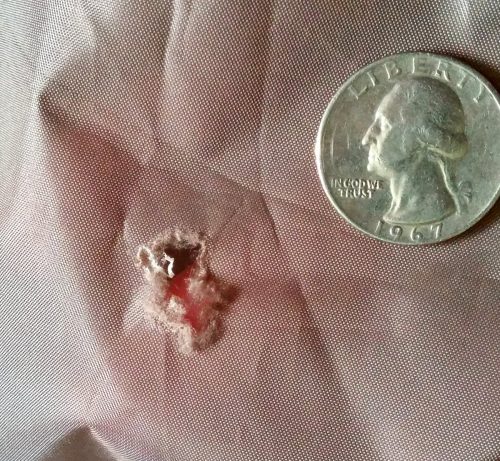 When I folded back the footprint there was a nasty looking creature lurking in a thumb-size hole under the spot!  A creature that apparently ate or tore a hole through the footprint and tried to get in the tent!  I didn't get a good look at it though and, after moving the tent and footprint elsewhere, it was gone when I got back.  I think it may have been a wolf spider though: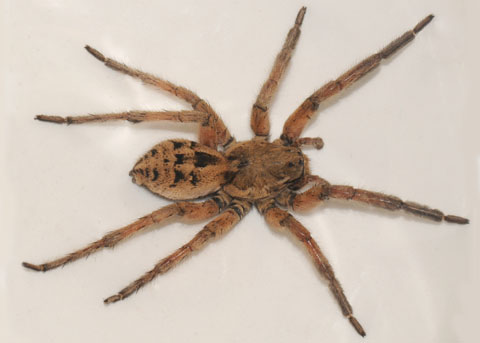 Gah!  I have no idea what we would have done if that thing had cut into our tent floor and started climbing around inside.  Might have had to just burn it all down and go home.
So, now I have to repair the tent and footprint.
Anyway, we got packed up and home around 9:00am.  Which was fine with me since it was only going to get hot and unpleasant out.  Our next camping adventure is scheduled in July.  We're going to try Heather's first multi-night camping trip.