We eat at Panda Express occasionally. It's just on the opposite corner from our apartment complex, so we like to walk down there every now and again. Well, we were down there a couple of weeks ago and there was a sign that, if you buy a 3-entrée meal, you can get a coupon to Boomers! for a free ride on the go-karts or a free game of mini-golf, and you get some tokens to use in the arcade. Since Jess likes to get cream-cheese rangoons with her meal she ends up almost always getting a 3-entrée meal. So we got a coupon and kept it. Then we went back to Panda a week later or something and did it again.
On Friday we finally went to Boomers! to use our coupons. We stopped at In'n'Out for dinner on the way. The only reason this step gets mentioned is that I have to include the picture of the end of a potato I wound up with in my tray of fries: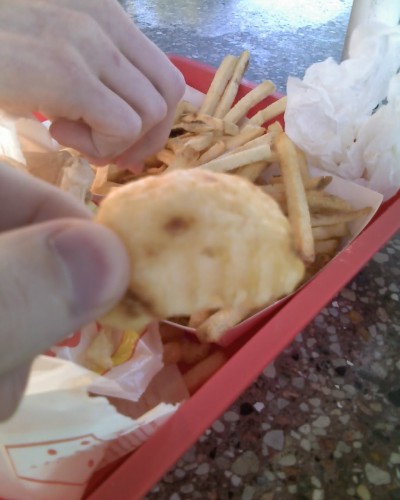 Exciting I know.
Anyway, so we went to Boomers! and decided to play a round of miniature golf. It was fun. Here I am teeing off: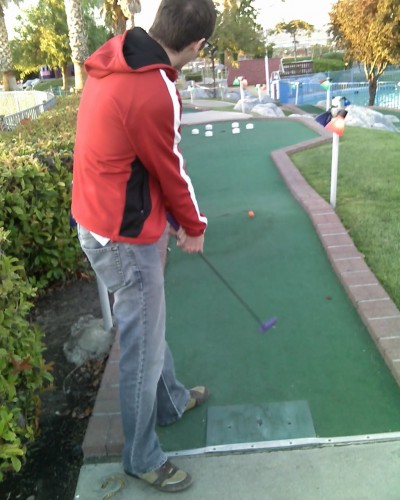 Jess is lining up her shot: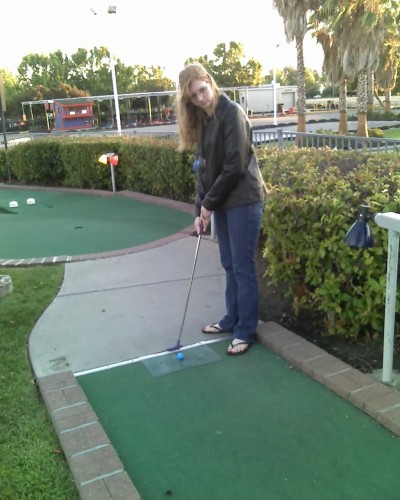 It was one of those nights that it started getting cold really fast, so I put my hood up. Jess promptly made fun of me, despite the fact that her ears were freezing: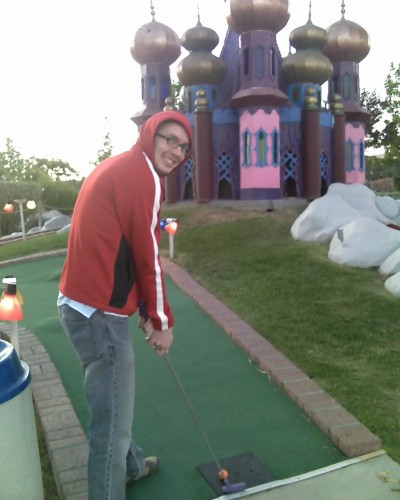 At the end of the course was a fun pagoda structure!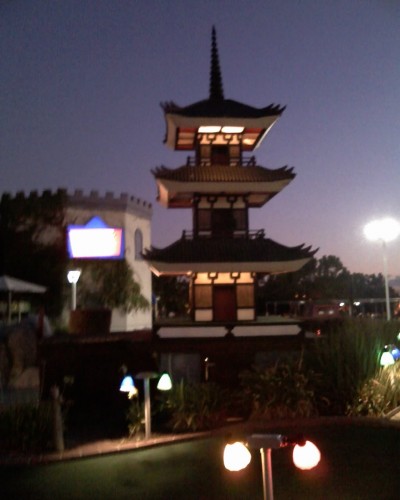 Jess beat me on the front 9, 23 to 28. But she ended up with a handful of 6's on the back nine and I ended up winning 53 to 59.
After miniature golf we went inside to get warm. We perused the arcade games and I found my long-time arcade favorite "Police 911". It's a shooter game where it detects your body movement allowing you to crouch and hide behind things (which is how you reload). I enjoy it. So here I am crouching behind a barrier to reload: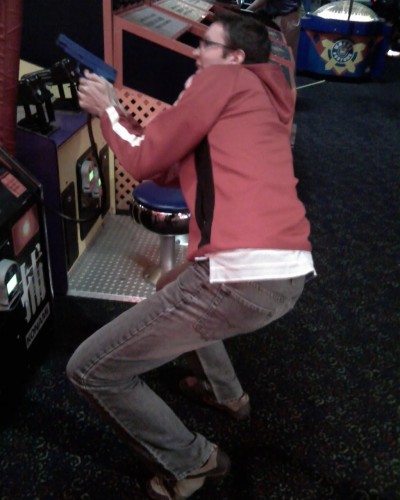 It was fun. And it was nice that it cost us $0 (aside from the Panda Express which we would have eaten anyway).