Ok, we've been lazy about Halloween. Ok, Ok, blogging Halloween was _my_ job, so I've been lazy.
Anyway. The week before Halloween we went out to a farm in Lathrop which was supposed to have a pumpkin patch which would allow you to pick a pumpkin straight from the vine (unlike the "pumpkin patch" in Livermore which trucks them in and lines them up). So we headed out there for the pumpkin patch, and corn mazes, aand pumpkin CANNONS!
It turned out that the pumpkin was a bit lame. It looks like it had been an actual patch, but it looked like they had done their best to destroy any vines that had been there.
But we did still go through a corn maze: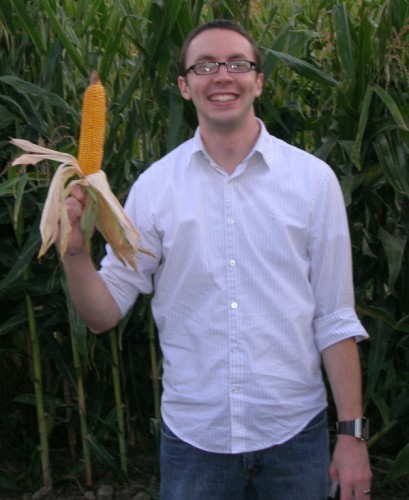 Jess didn't particularly enjoy the corn maze. She felt that if she wanted to be lost, she could just go walk around town for 10 minutes. After wandering for a bit we picked a wall and followed it all around until we got out. There were 3 mazes, but we only did one.
Then we headed over to the CANNONS! You get a bucket of small pumpkins that you can load one-at-a-time into your compressed-air cannon. It was getting dark and the lighting was crappy so the pictures aren't very good. In this one you can see one of the targets you get to aim at, a giant jack o' lantern. There was a good 6 feet of piled pumpkin remains at its base: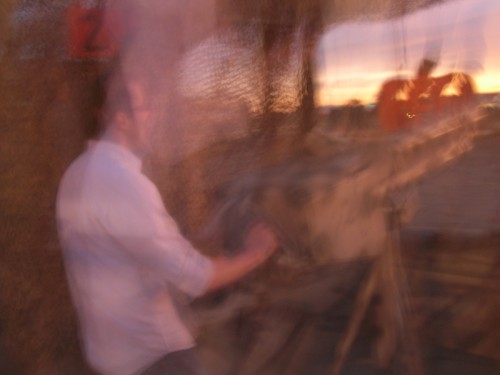 And here's Jess: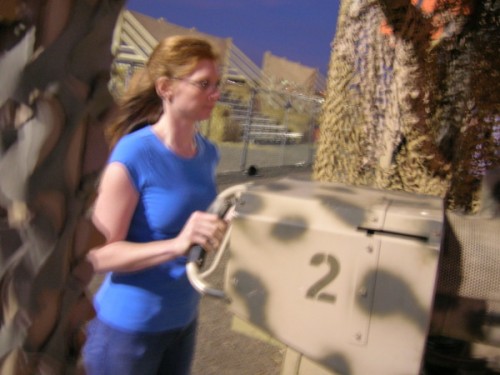 So that was fun. The pumpkin cannons were definitely worth it.
We bought a pumpkin from the grocery store because it was cheaper than the "pumpkin patch". We didn't get around to carving it until Halloween. I began working on a top-secret pumpkin exo-skeleton project: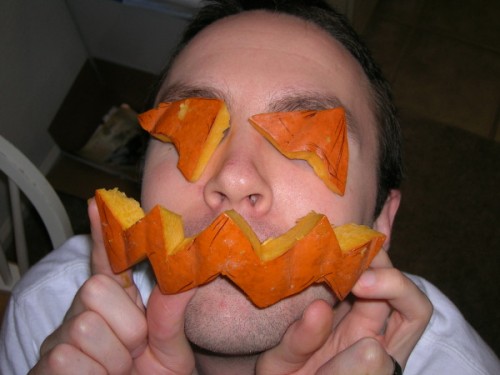 It didn't work out very well. But the jack o' lantern was pretty decent: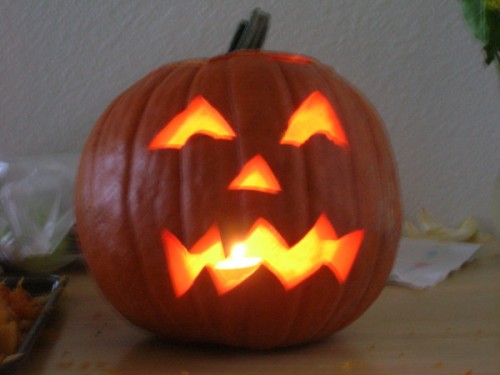 We sat about waiting for trick-or-treaters (with a big bowl of candy) but were rather disappointed in that regard. We had one family with 3 small kids come by. That was it. So now we have a bunch of candy to eat (and Jess got more for 75% off at CVS after Halloween). Since the door wasn't busy Dr. Horrible walked down to Panda Express for traditional Halloween cuisine (the new SweetFire Chicken Breast is awesome, I can't eat Orange Chicken anymore):