Megan and Chad drove their family across the country in what I can only assume was their own personal version of "Organ Trail" (the zombie-apocalypse-parody game of Oregon Trail--traverse the country, avoid the infected swarms).
I took Wednesday off of work and we met up with them in Fairfield. This would have been before Jess ended up in the ER that evening, see the previous post for that story.
We did the self-guided tour of the Jelly Belly factory: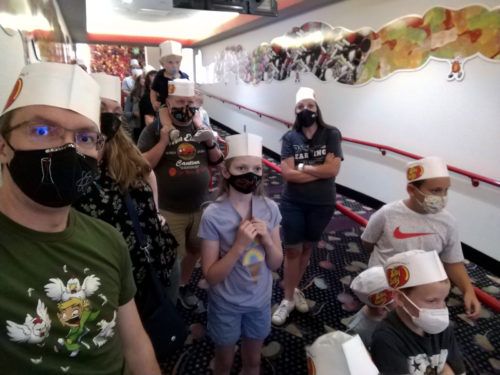 After the tour we went to Fentons in Vacaville for lunch. It was not apparent to us before ordering our ice cream that their sundaes are massive. So we ended up with a lot of ice cream, but we made a valiant effort to eat what we could. So note, Fentons sundaes are to be shared by at least two people.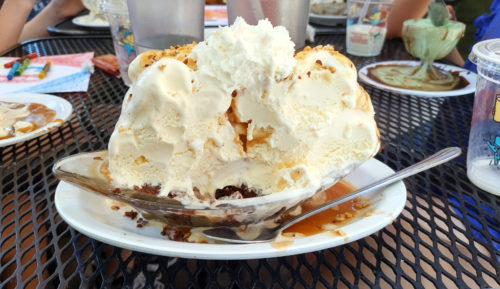 After lunch we spent a little time at Nut Tree Plaza in the shopping center where Fentons is. They have a little train to ride, a carousel, a playground, and a real old-fashioned, injury-inducing, merry-go-round. On the carousel, Corinne's wildest dream of riding a flamingo came true: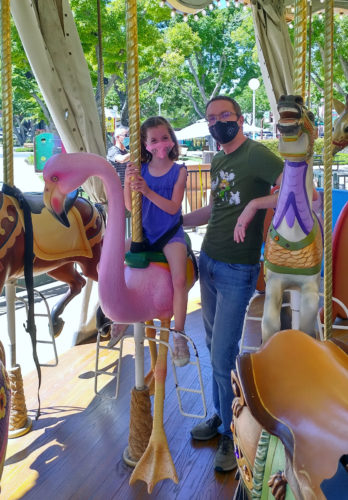 The high temperature in Fairfield was forecast for 83F, which would be fairly pleasant. I made a mistake in assuming that Vacaville (10 miles north) would be about the same. But Vacaville was 99F and so hanging out at Nut Tree Plaza lost its charm fairly quickly. Once we'd had our fill of the heat we headed back to Livermore and Megan's family headed back to Elk Grove.