I've been working on a new project recently.
It started with the goal of a photography gallery website where I could put my pictures and allow people to self-service buy prints/canvases/etc. through one of the many companies that sell such things.
I found a promising option, but it turned out to not be as helpful as I had hoped.  They wanted me to sign up with a payment processing company, file for a state tax identification number, etc, etc.  Way more effort than I wanted to go through.
Then I found another option, but, on top of the cut they take for each sale they also want $30 a year, which I don't really feel like paying.
So I took another tactic: I created a photography gallery website and licensed my pictures under the Creative Commons Attribution-NonCommercial-ShareAlike 3.0 Unported License.  It's not nearly as complicated as it sounds.  It essentially means you can do just about anything you want with the photos except use them commercially so long you attribute them to me as the copyright owner.
So anyone is free to have prints or canvases or whatever made from the photos.
Without further ado, I present Serindu Gallery: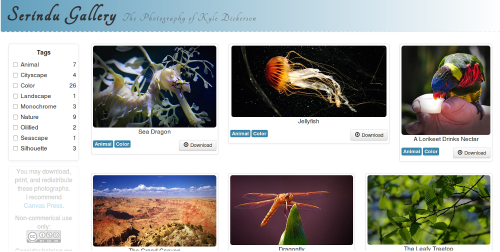 Serindu is just a name I made up years ago for an online game, it doesn't mean anything, I just like the way it flows.
Tools used to build the site:
Django, Django-photologue, Django-tagging, Bootstrap, Bootstrap-Image-Gallery, jQuery, and BrowserState history.js.  I also used the webfont Tangerine.