Kyle and I drove down to San Diego for my younger brother Colton's graduation from boot camp (he's going into the Marine reserves). Mom and Dad flew out from Frisco, too. It was awesome fun, and we're totally exhausted.
Thursday afternoon, Kyle took off work and we drove down, stopping in LA to see Josh and have dinner with him. Thanks again, Josh, for the best hamburger of my life! It was great to catch up with Josh (which was also a nice break in the 8-hour drive).
Friday morning, we were told to be ready to leave the hotel at6:30 am, which was an even bigger deal since we didn't get into the hotel until 11:30 Thursday night. We actually did manage to get down to breakfast at 6:30, and Mom and Dad were late, so it worked out alright. We headed over to the Marine Corps Recruit Depo (MCRD) in time to see the colors ceremony at 7:30. It was neat, and we got to hear the band!
Uhhh...not pictured: the band.
Then we had an hour or so to knock around the base and its museum before the graduation ceremony. I will just mention this once that it was very hot and we were in full sun the entire time. In good news, though, we had sunscreen. The recruits looked pretty impressive:
There was a lot of marching, by both the band and the recruits. Also a lot of flags, music, and ceremony. But they were eventually declared graduates and released!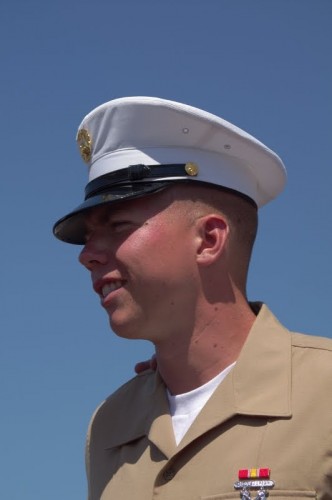 I'm so proud of Colton and what he's accomplished already. I also really enjoyed hearing him call other people "sir." Heehee.
Lessee, after that we headed over to the PX so Colton could do some errandy-type things before leaving the base. (Apparently, the boy cannot pass a store of any kind without going in and looking around, though he rarely buys anything. Go figure.) For a little while I thought I would die, but Kyle and I got some food—right before everyone was ready for lunch. Oh well. We were both still able to eat lunch (we went to the Yard House, the same restaurant Josh had introduced Kyle and me to the night before (only in San Diego, not LA, obviously)) and it was way tasty. I had my second barbecue bacon cheeseburger in 24 hours. This was also when we started to realize how much food Colton can put away. I'm pretty sure he ate 2-3 times as much food as me at every single meal (and more on some occasions!).
After lunch, we went to see the USS Midway aircraft carrier—they've museumed it and it's super cool. My favorite was reading things sailors had said about their experiences (working in the galley or engine room, for example), but it was just really neat to be able to walk all throughout the ship and see how people lived and worked there. They also had a lot of planes in the hangar and on the flight deck that were pretty neat. Colton and I climbed inside a helicopter:
This is a shot of the top of the ship: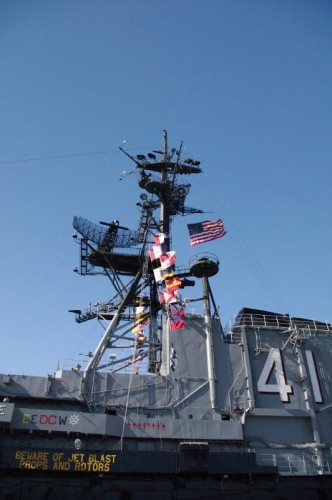 Mercifully, this was almost all indoors, giving us all a break from the sun.
Next we went back to the hotel so Colton could change out of his uniform (we all got free admission to the Midway if he kept his uniform on, so he did) and then headed over to see the Mormon Battalion museum. This was a lot of fun because we learned a lot about the Mormon Battalion (surprise surprise), and I just hadn't known much about it beforehand. And look! We even joined up: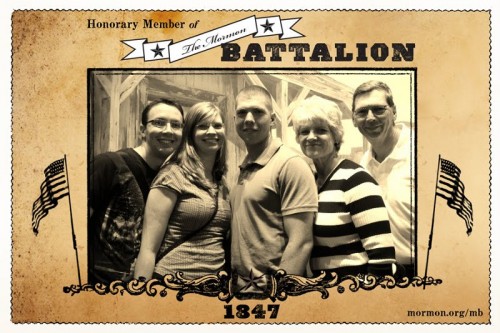 After that it was dinner time, so we found a restaurant there in Old Town (the Old Town Mining Co.) and got some grub. Colton again ate a massive amount of food, and when we were all full, we decided we needed dessert, too. So I got cheesecake, Colton got an ice cream sundae thing, and Kyle ordered a slice of chocolate cake that proved to be the largest piece of cake I've ever seen (even bigger than the Great Wall of Chocolate at P.F. Chang's!). It was four layers thick, and each layer was a real layer of cake! OK, that sounds dumb, but just picture a round cake with four full layers. It was an absurd amount of cake, but Kyle managed to finish half of it. Colton, of course, polished off most of the rest.
All that was left that day was an early bedtime. Phew!