We went down to Monterey for the weekend of August 21, 22, and 23.
I took that Friday off from work and we drove down mid-day to avoid morning rush hour traffic.  When we got there we grabbed lunch at Point Pinos Grill, which was considerably nicer than I was expecting considering the prices.  After lunch we walked across the street to the Point Pinos Lighthouse.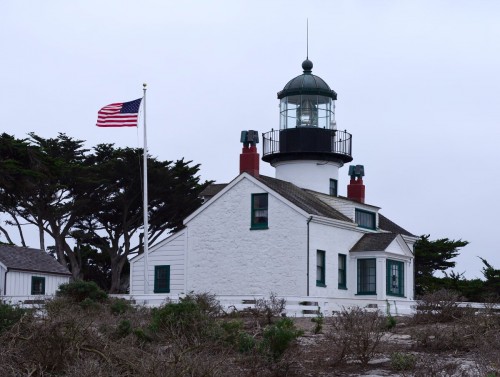 This picture would have turned out better if the sky weren't so heavily overcast, but not much I could do about that.
After touring the lighthouse we headed to our hotel room at Asilomar Conference Grounds.  Once we were checked in we walked down to the beach (Asilomar State Beach) to do some playing.
I dug a hole, because why not?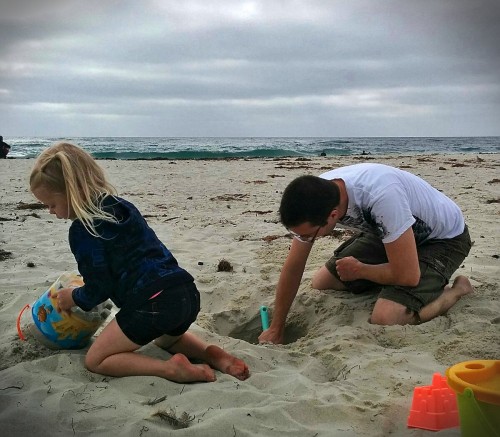 And Heather stood in it, because why not?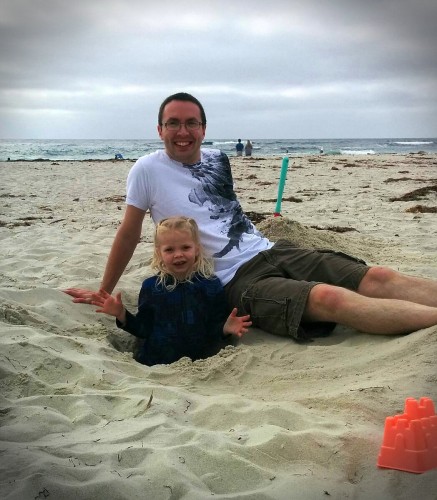 We hung out in our little beach shelter (which worked fairly well overall):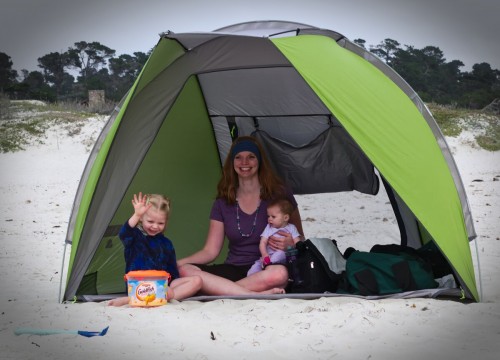 We walked along the beach and dabbled in the water: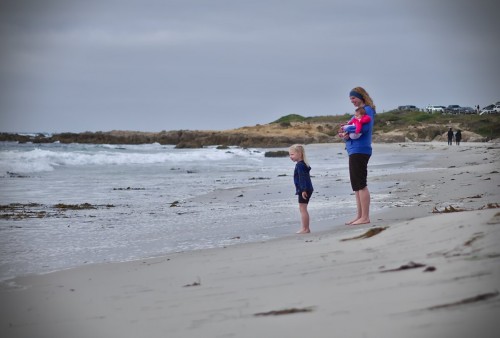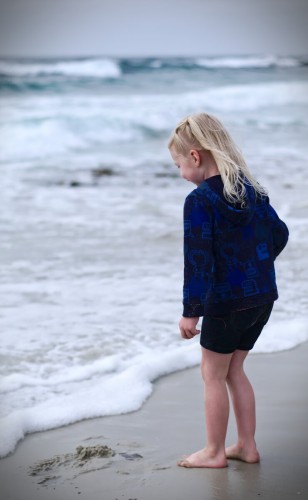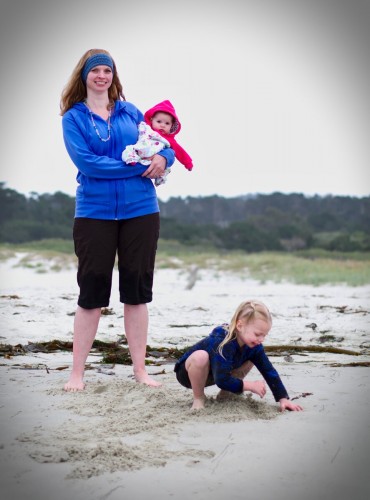 This was Heather's usual reaction to the waves coming in: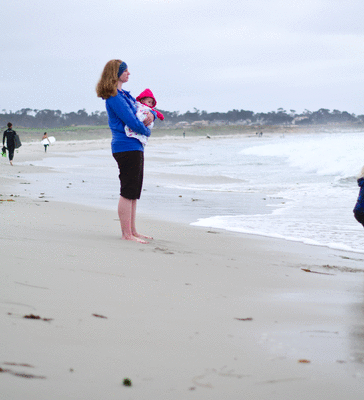 I tried to take some artsy pictures of the waves stacked up as they came in: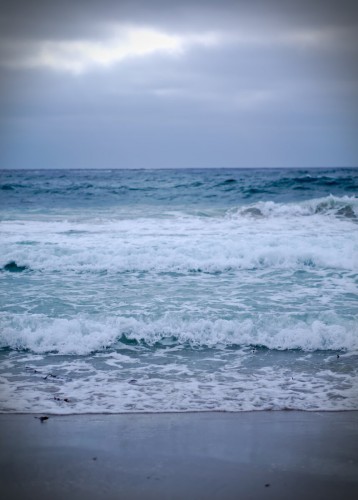 Then we headed up to the room for a dinner of hastily retrieved McDonald's; eaten on the floor (there never seems to be a good place to eat food in a hotel room).
Saturday we eventually made it out the door and down to Monterey's main drag.  We ate breakfast at Coco's which was....not a highlight of the trip.  It could have been a smoother experience, but the food was fine.
With food taken care of we walked down to Monterey Bay Aquarium to spend most of the day.  Public Service Announcement: Buy your tickets online and print them out.  We walked straight in the door while a line down the block was waiting to buy tickets.
Heather got to see some baby moon jellies up close as we walked in.
Heather, Jess, and Corinne sat in a giant clam: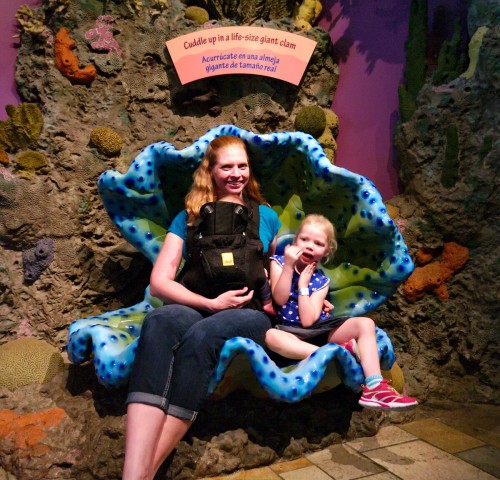 And some more jellies, because they seem to make the most successful pictures at aquariums for some reason: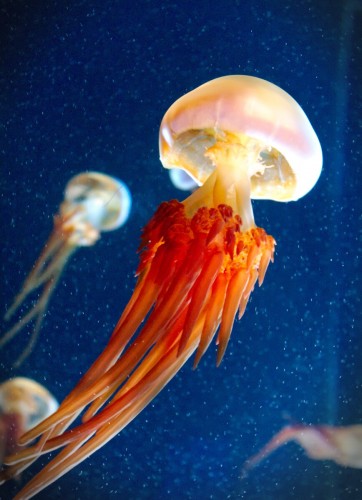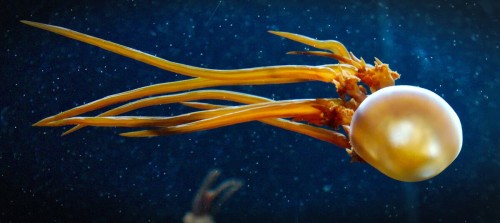 After completely wearing everyone out at the aquarium we headed to a local pizza joint, Gianni's, for dinner.  It sounded like a sit-down and order kind of place, but it turned out to be a place-an-order and seat yourself kind of place.  Which would have been fine, except they were packed and there was nowhere to sit.  And Heather was DONE with the day and couldn't take being in the restaurant.  So we converted our order to takeout and I took Heather back to the van to decompress while Jess waited for it to be ready.
Once it was ready she called me and we drove around to pick it up (couldn't drive up earlier because there would have been nowhere to park).  That worked well for Heather and we had another dinner on the floor of our hotel room.  The food was good though.  Probably would have been better not stuffed into takeout containers and driven across town though.
On Sunday we got up and eventually got packed up and out of the hotel.  We headed down to Carmel-by-the-sea for breakfast at Em Le's.  They have famous deep-fried french toast: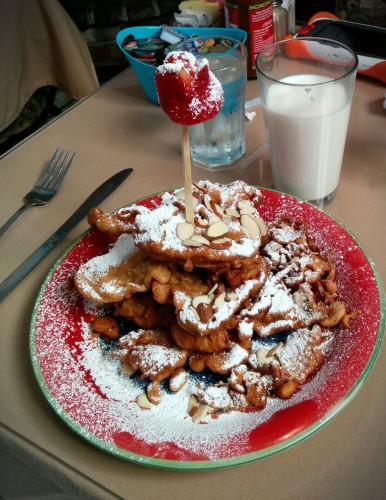 Em Le's is just a tiny little restaurant tucked into the corner of a building.  There's only seating for maybe 25 people at a time.  The food was really good; give it a try if you're in the area.
See with the Point Pinos Grill, Gianni's, and Em Le's? I tried to find unique, local places to eat; but it's tough not knowing what to expect when you have little kids.  Don't want to unintentionally go somewhere too upscale or non-kid-friendly (Em Le's was close on these criteria, but we didn't have any problems).
After eating we went down to Carmel Beach for a few hours, but didn't take any pictures this time around.  Then we loaded up into the van and headed home.  Which took much longer than it should have.  I was expecting weekend traffic heading back into the Bay Area so we left at like 2, but it was terrible.  So try to avoid that.  We ended up needing to stop for food so we found a Habit Grill (which is a chain, but I hadn't seen one before) which was decent.