I started Christmas off with a nasty cold starting on the 22nd which didn't reach its peak until the 26th. But at least until the 26th it responded well to ibuprofen and pseudoephedrine. So I was able to enjoy Christmas Day still, but the 26th was fairly miserable.
Anyway, it was raining a lot leading up to Christmas which helped clear the air. So, unlike last year, we were able to have a fire on Christmas Eve. I found a 1080p HD video clip on YouTube of snow falling in some woods and we had that playing on a loop in the family room for most of the evening. Between the two it felt more Christmasy, at least if you ignore the windows.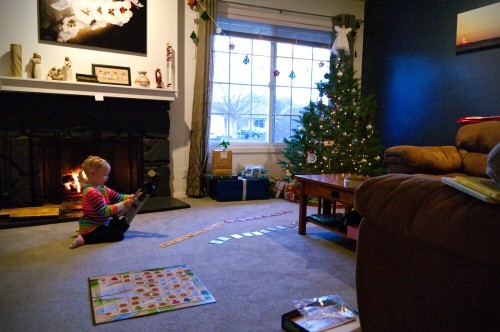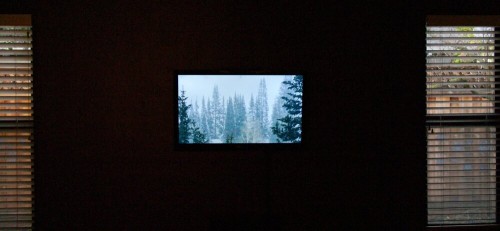 By Dickerson tradition we had wassail, little weenies, Wheat Thins, Triscuits, cheese, etc.  And then it was bedtime.  Heather gets up between 7:00 and 7:30 pretty much every day so we were counting on that happening.  But by 8:10 she still wasn't up.  Shortly after, though, we heard her little feet running down the hallway towards the living room (she usually finds me out on the couch when she wakes up).  Then she came running back down the hall and into our room excited and confused about what she'd seen in the living room.
During the night, some of the critters from around the house had gotten dressed up in new play clothes that Santa brought: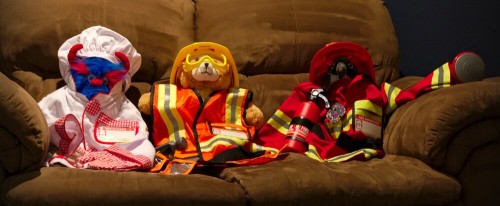 Heather got a kick out of that.
But first, the obligatory family photo: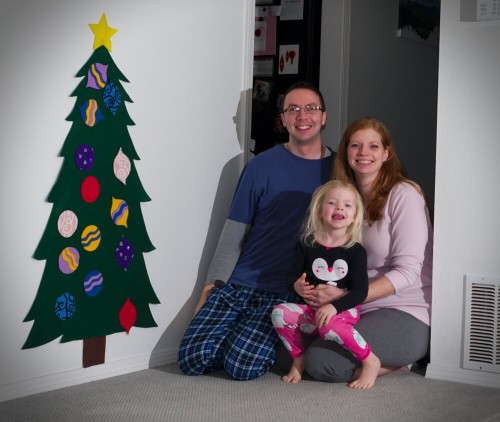 A small gallery of our morning.  Heather loves the trains and has played with them every day so far.  Side note: reflective strips really screw up a camera's light meter, so you need to use the exposure compensation to fix it so all of your pictures aren't totally underexposed; luckily I figured that out fairly quickly and prevented all of our pictures from being useless.
After playing for a bit, Heather started combining activities.  She would place an obstacle on the train tracks, the train would derail, then we'd call the fire department, and she'd come in as Fire Chief Heather to put out the fire and fix the train.  Here's a video; it's adorable. (Or download it with this link, "right-click, save as...": Heather sabotaging and rescuing trains.)
It would have been nice to see some family, but we had a lot of fun and it's at least less stressful when you're just staying home. We're grateful for the time we get to spend together and for our safe and comfortable home.