Virginia ends their school year.
New York is requesting the Army Corps of Engineers begin immediate construction on 4 temporary hospitals.
New York orders hospitals to figure out how to increase their capacity by a minimum of 50% as soon as possible.
New Zealand and the United Kingdom enact nation-wide isolation measures.
More states are issuing shelter-at-home or only-essential-business orders. They vary in strictness and enforcement so it's hard to track what each state is doing, but new restrictions were announced by Delaware, Indiana, Louisiana, Maryland, Massachusetts, Michigan, Ohio, and Virginia.
The Federal Reserve announced they will undertake an unlimited quantitative easing program to try to stabilize the financial markets.
The Fed also announced plans to extend credit directly to businesses and cities; something way beyond their scope historically.
DJIA closed down another 3.0% (18,592, down 11,000 points since January).
Congress failed to move forward the third stimulus/relief bill. The goal was to pass it today, which isn't likely to happen.
2020 Summer Olympics have been postponed, likely to 2021.
Alameda County cases: 112.
Last night Trump tweeted out that we need to loosen restrictions and get people back to work to improve the economy. This morning the Surgeon General gave a press conference emphasizing that the situation throughout the country is only going to get worse this week. So messaging is mixed-at-best coming from the Federal Government.
The Lab has officially transitioned to "Minimum Safe Operations" as of today in response to Alameda County's shelter-at-home directive that went into effect last week. Only those necessary for the safety and security of the facility are allowed on site without approval. I am now starting my third week working from home.
Restaurants, closed to dining-in, have been providing delivery or take-out orders of prepared food and many have started providing retail access to their supplies. It's interesting, the restaurant space represents an entirely separate supply chain from the retail grocery space. With the strict restrictions on restaurants their supply chains are presumably glutted with excess product. Meanwhile, retail grocery supplies are being stripped bare.
It seems likely there are people trying to work out the fastest way to divert restaurant supplies to store shelves, but that's going to take time. UPCs need to be entered into computer systems, contracts need to be written up and signed, trucks and warehouses need to be retasked. Though, if retail supply chains have plenty of product and it's just a matter of delivering it, then it may not make sense to bring in another logistical system. Meanwhile, I can go to the quickly-thrown-together online-ordering website for a restaurant in town and order butter, strawberries, chicken nuggets, ground beef, flour, oats, hamburger buns, potatoes, pasta, bread, etc. and pick it up the next day.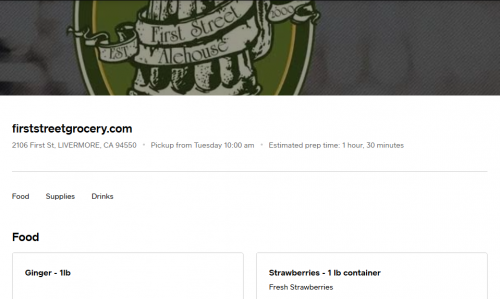 I baked some bread yesterday and for dinner we had fresh bread, apples, and Vermont cheddar cheese. Heather declared it one of the best meals she's ever had. Heather and I had more of the same for lunch today.
From today's walk, another fairy house: