This is Henrietta, Heather's pink hippo sleepytime buddy: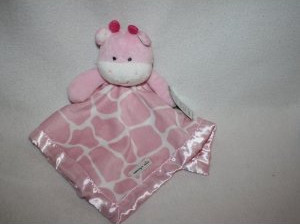 You may be thinking, "Wait a minute. That's not a hippo. That's a giraffe!", in which case you'd be right. I thought it was a hippo. We've called her a hippo. Only just now, when I was trying to find a picture online because I'm too lazy to take one myself, did I discover that she's a giraffe. My world is topsy turvy, and I can only imagine what this is going to do to Heather. I hope we make it through.
We started giving Henrietta to Heather at bedtimes when we stopped swaddling her, and it's been really helpful. It gives her something to do with her arms. And, apparently, it's way easier to sleep when you have a hippo (argh! giraffe!) on your face than otherwise. Also, seeing her snuggled up with her is just adorable. (I need to get a picture of it, but I can't do it when she's sleeping, and I'm not sure she'll do it at another time.)
Anyway, we love Henrietta, and we'll just have to accept her, no matter what she is.